The Best British Eyewear Brands
The best British eyewear brands? If this is what you're looking for, then you're in the right place. Here at FAVR, the premium eyewear finder, you will find the most unique and fashionable sunglasses and optical frames from leading design hotbeds such as Japan, France, Germany, Spain, Scandinavia, Belgium, the Netherlands, Austria and more. We feature the world's highest quality eyewear labels, and today we're going to take a closer look at Britain's best brands. Britain is a mecca for bespoke, innovative eyewear that makes a statement, blending top-quality craftsmanship with bold British style.
British eyewear brands make a statement
British optics goes back centuries, but eyewear as fashion truly hit Britain by storm in the latter half of the 20th century. World-famous celebrities don't just wear British eyewear brands, they build their very image on them. It's impossible, for example, to picture Elton John without one of the more than 300 CUTLER AND GROSS frames in his collection. Similarly, British brands feature heavily on the red carpet, on movie sets and in music videos.
Why? Because British eyewear and British eyewear brands make a statement. Whether it's the unique bespoke frames from CUTLER AND GROSS, the bold and colorful designs of KIRK & KIRK, or the classical British style of Hackett London, the best British eyewear brands don't just help us see better, they're a mode of self-expression in their own right.
British eyewear is recognized globally
British brands are, in more ways than one, also global brands. They are sold all over the world, exporting British fashion internationally and offering that uniquely British flair to fashion-minded customers from the US to Japan. In a much more direct way, however, British eyewear is the product of technologies and techniques that are sourced from far beyond its own shores. Top brands proudly unite the local knowledge and artisanship of the Italian, French, German and Japanese optical traditions with their own local British expertise and unique designs.
The Best British Eyewear Brands – here's our list
There's no better brand to start our list than the legendary CUTLER AND GROSS. The secret to their success is – and has always been – a combination of technical perfection and fashionable flair. The brand has its roots in the 1970s at CUTLER AND GROSS' optical store in Knightsbridge, which offered a combination of technical skill and fashionability that soon saw them serving artists, rock stars, writers and royalty with one-of-a-kind handcrafted looks.
Their reputation as pioneers in fashionable eyewear well-established, they moved on to launch their own brand in 1982 during Paris Fashion Week. Never forgetting what made them great in the first place, CUTLER AND GROSS have maintained their emphasis on handcrafted excellence, melding meticulous craft with creative, cutting edge design. All of their frames are produced by skilled craftspeople in Cadore, Italy, giving each pair of glasses its own unique (im)perfections.
Of all major eyewear brands, CUTLER AND GROSS can arguably be credited as the one that transformed eyeglasses into the modern fashion accessories we know today. Their frames have helped to define our image of celebrities, from Elton John in the 70's to Lady Gaga in the 2010s, setting global eyewear trends in the process and firmly cementing CUTLER AND GROSS' place on our list of the best British eyewear brands.
Virtually try on current glasses from CUTLER AND GROSS online here:

>>>> Click here for more CUTLER AND GROSS
TOM DAVIES
With a laser-focus on personalization, customer service, and bespoke designs, TOM DAVIES offers its discerning customers the perfect fit, style, and technical excellence they crave. Davies founded his brand in 2002 on the principle that our faces aren't standardized – so our glasses shouldn't be either. This attitude shaped the eyewear brand's development and made it Britain's go-to solution for top quality bespoke glasses.
TOM DAVIES glasses feature bespoke frames and lenses, tailor made at their London factory to guarantee an ideal experience for every customer. When it comes to glasses, good design can make all the difference in terms of comfort, style and function, so each frame is individually built to match the wearer's nose, head shape, and ears.
This dedication to excellence comes alongside a love for timeless but also striking designs that incorporate the highest quality titanium, acetate, silver, gold, and natural horn alongside a few custom-made materials. These have caught the eye of celebrities, fashion-lovers, and film directors alike and secured the brand a loyal international following as well as some high-profile exposure in films like Matrix Resurrections and Cruella.
TED BAKER
As one of the rare designer brands to achieve international recognition without an advertising campaign, TED BAKER is a brand that speaks for itself. Founded in 1988, the company initially focused on men's shirts, but quickly expanded its focus to become the iconic lifestyle brand we know today. Launched in 2001, the TED BAKER eyewear collection stays true to its roots, marrying classic and contemporary styles to create a wide range of timeless looks. Like his clothing lines, the brand's glasses stay true to his brand's well-earned title – "No ordinary designer label."
TED BAKER glasses and sunglasses are largely inspired by the classic retro styles of the 50s and 60s, and feature rich colors and classic keyhole features alongside the quintessential TED BAKER logo on the temple. The collection's broad appeal has made the brand enormously prolific both at home and abroad, and secured its place as an iconic part of classic British style – and also a place on our list of the best British eyewear brands.
WILLIAM MORRIS
When it comes to the best British eyewear brands, WILLIAM MORRIS London is a brand that can't (and won't) be ignored. Founded as a quintessentially British brand in 1996, Robert Morris took inspiration from the streets of London to develop stunning eyewear collections with a creative, colorful and unapologetically English flair. Additionally, William Morris frames are always made of top quality materials, with newer collections featuring next generation bio acetates and German-engineered spring hinges.
As one might expect, Morris' bold style, philosophy and dedication to quality quickly caught on with fashion-lovers everywhere. As the brand has grown, so has its selection and range of bold, modern styles. Today, William Morris London is an internationally recognized champion for British design and fashion, operating and distributing in over 50 countries. Is that enough to be on our list with the best British eyewear brands? We believe it is!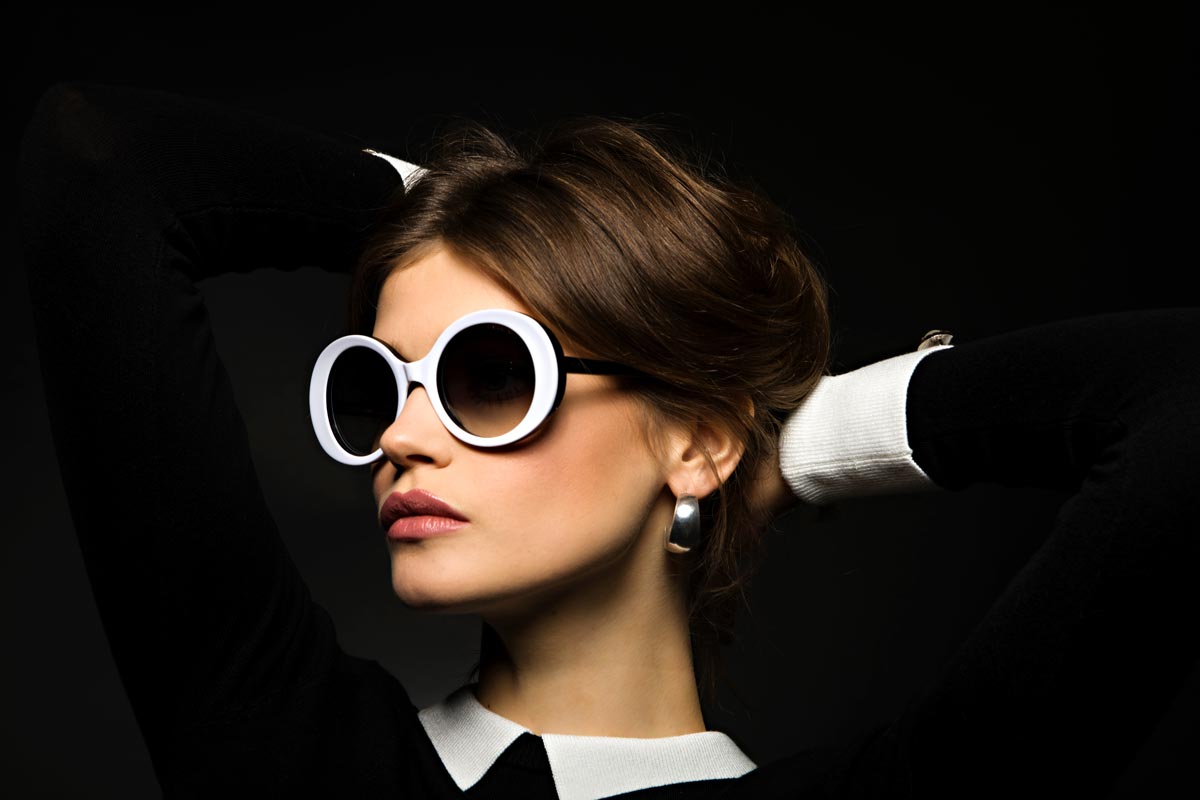 When we think of Britain's best eyewear brands, it isn't necessarily always about creating the most quirky or colorful designs. As a contrast to the focus on fast-changing fashion trends that we see with many newer brands, Oliver Goldsmith emphasizes timeless beauty, longevity, and the unparalleled quality that comes with nearly a century at the forefront of the eyewear industry.
That isn't to say that the brand doesn't focus on style. Founded in 1926, it is in many ways responsible for transforming what had previously been seen as a medical device into a fashion accessory. Today, 4 generations later and under the leadership of Claire Goldsmith, the brand continues to innovate while upholding its legacy as the producer of the finest eyewear in the world.
Oliver Goldsmith frames are the product of modern technology in the design and tooling processes and traditional artisanship wherever human hands serve best. Here, they largely work with family-owned and operated factories – lenses from one specialist, hinges from another. These offer their own unique expertise and traditional techniques, allowing the brand to make frames that aren't just beautiful, but also uniquely hard-wearing and robust. Among the best British eyewear brands presented here, OLIVER GOLDSMITH is a true icon with a multi-generation heritage. Check out the brand's brand profile here on FAVR.
---
Virtually try on current glasses from OLIVER GOLDSMITH online here:
>>>> Click here for more OLIVER GOLDSMITH eyewear
With its edgy designs and bright colors, KIRK & KIRK gives wearers the means to see and be seen in turn. Having developed their own custom acrylic, they offer a unique, bright color palette that can't be found elsewhere. This has made them a favorite for style-oriented customers looking to be seen, including more than a few celebrities on the red carpet.
Of course, KIRK & KIRK isn't just here to offer flashy accessories. The company has its roots in three generations of opticians, dating back to when Sidney and Percy Kirk converted an old sewing machine into a lens cutter in 1919. Since then, each new generation has developed the family business further. Each new frame is meticulously designed by hand to offer customers a fashion statement as well as the comfort and quality that only a top-of-the-line optical specialist can provide. So if you're looking for a truly British eyewear brand with a unique style, KIRK & KIRK is a top choice. Check out their brand profile on FAVR.
---
Virtually try on current glasses from KIRK & KIRK here:
>>>> Click here for more KIRK & KIRK
BOOTH & BRUCE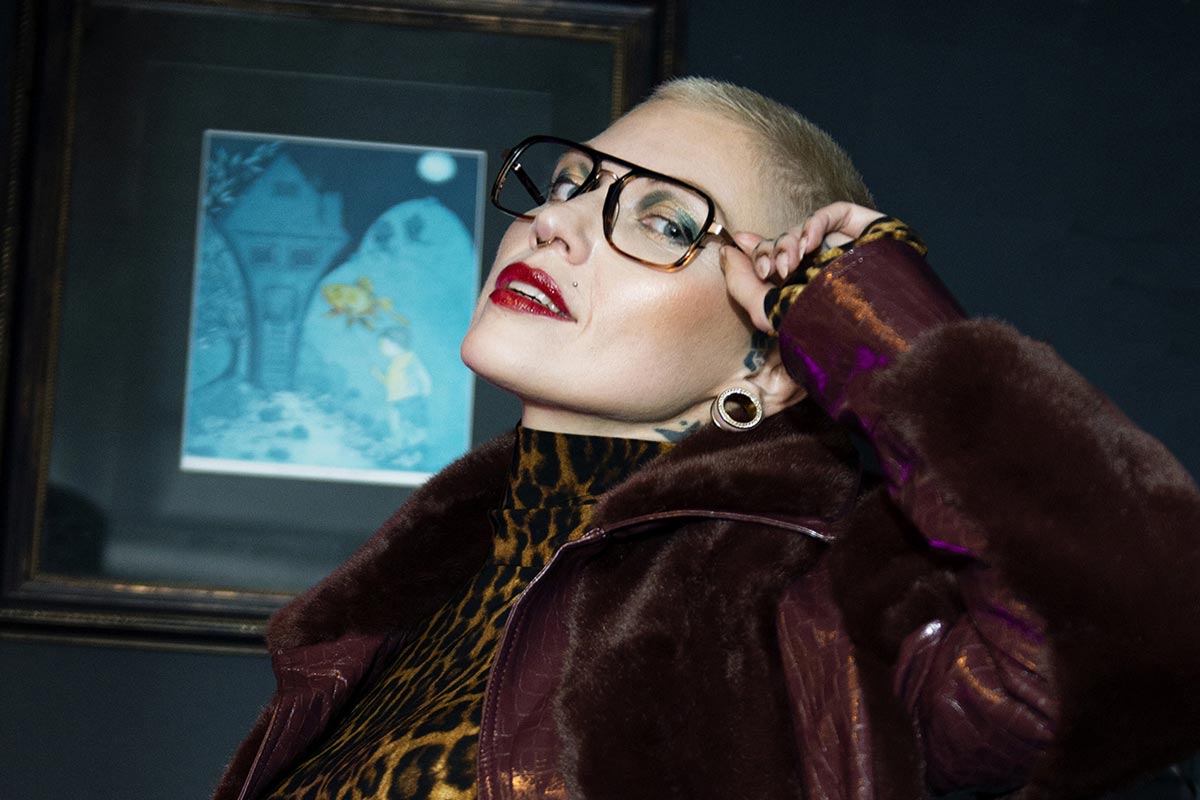 Booth and Bruce has made it its mission for over 20 years to give eyewear a funky, fashionable, and quintessentially British twist. Its success in doing so, and becoming a globally recognized brand in the process, makes it a natural fit for our list.
Building on this philosophy, the brand has grown to offer a wide range of modern looks and styles to appeal to its discerning fashion-forward customers. These combine contemporary designs with new design quirks and a riot of color options to draw the eye without compromising on quality or comfort for the wearer. Is BOOTH & BRUCE one of the best British eyewear brands? We believe it is – hence the spot on our list.
HACKETT LONDON
While its focus is much broader than just eyewear, HACKETT LONDON has made its mark as a high-end bespoke eyewear brand. As in its other offerings, the world renowned lifestyle brand focuses on classical high-end British style for its eyewear. That means retro-inspired but timeless designs that are as at home at a board meeting as they are on the golf course.
While many British eyewear brands focus on artistic self-expression, HACKETT LONDON offers a different kind of statement piece. Its understated, luxury-oriented designs are meant to evoke a sense of exclusivity entirely independent of today's fashion trends. This approach, along with the uncompromising quality of their products has made them the go-to eyewear brand for high-end clients – both in the UK and across the globe. The spot on our list of the best British eyewear brands is well deserved.
LINDA FARROW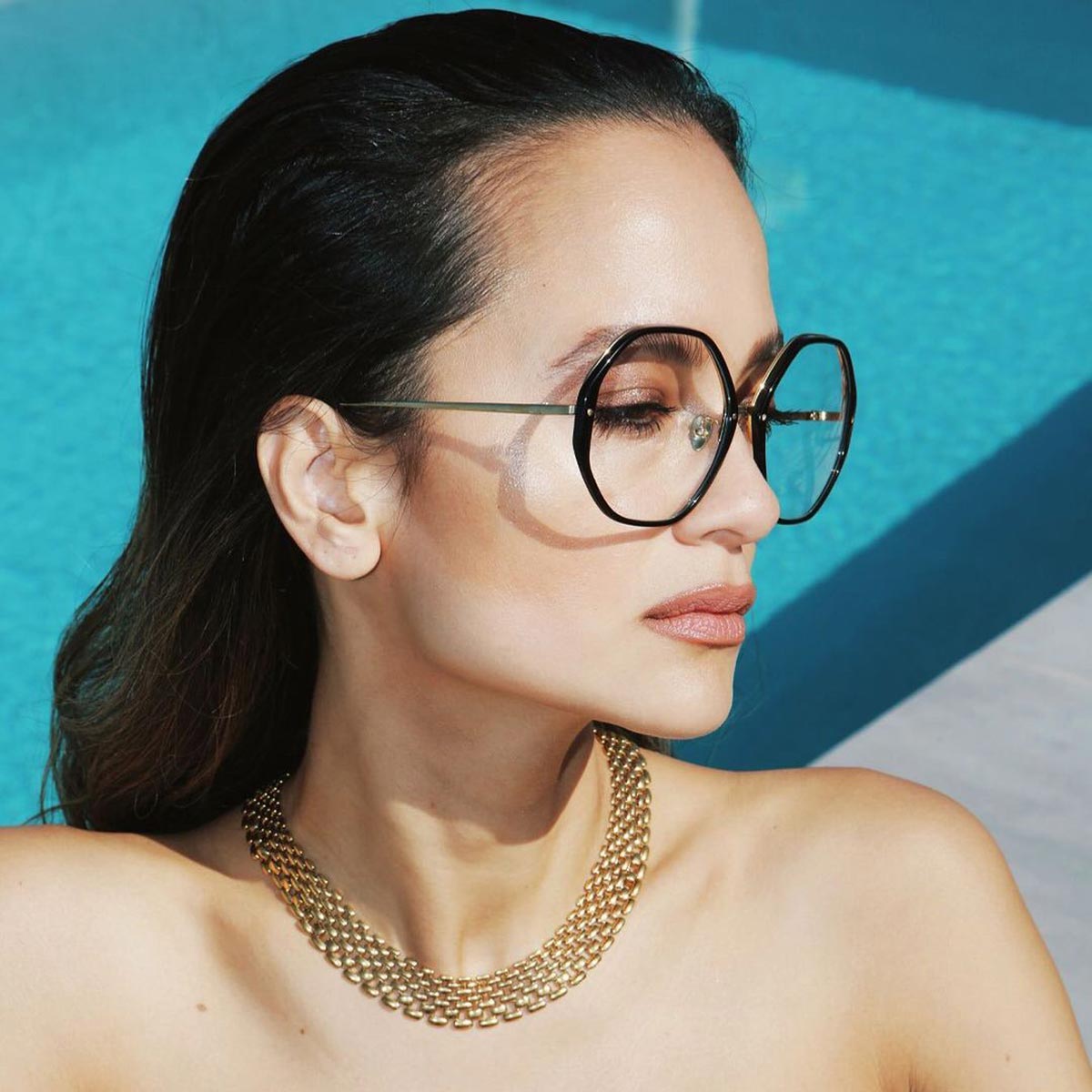 As the creator of Yoko Ono's iconic wraparound sunglasses, LINDA FARROW secured her place among Britain's design icons. Building on her work and her original brand, the designer's son relaunched the brand in 2003 to continue her legacy.
As one of the first designers to treat sunglasses as fashion, LINDA FARROW's designs have continued to inspire trends in eyewear for decades. Both the brand's optical frames and sunglasses clearly reference the work of the brand's namesake, offering customers a unique marriage of modern and vintage design features. To maintain the spirit of the brand, the LINDA FARROW team works closely with collaborators both small and large to develop new designs, which are then handcrafted in factories in France and Japan. As you can see, LINDA FARROW is a British eyewear design icon that produces globally and is recognized around the world.
The Best British Eyewear Brands with Virtual Try-On
Have the bold and fashionable frames from our best British eyewear brands caught your interest? FAVR has just what you need to help you make a uniquely British fashion statement. With our Virtual Try-On function, you can quickly and easily try on all kinds of different glasses directly on your phone. Whether your focus is on British brands, or designers from Scandinavia, Italy, Germany, Japan, the US, or around the globe, this is the place to find your favorite frames from independent brands all over the world.
Have you recently taken an eye test to check your vision? Always make sure to take a Color Vision Test. We've recently examined the available test and found that the Enchroma Color Vision Test is the gold standard.