Try on glasses? Do it virtually here at FAVR. But first you should know what to look for when buying eyewear. Whether sunglasses or opticals, the frame should fit well and be comfortable. But it should also match your type. In the end, the glasses underline your personal style. They sit in the middle of your face. They are an "eye catcher".

Glasses also change how your face is perceived. Is your face round or square? They underline contours or distract from them. And they define how you are viewed by others. So you definitely need to try on glasses before simply ordering. And how would you try on eyewear? Two options: try on virtually and try on at an optician.
A good independent premium optician in your city will help you with your try-on. But you can also virtually try on glasses online. Simply visit FAVR, the Premium Eyewear Finder. You can literally try on hundreds of glasses online. Basically every pair of glasses has the "virtual try on" button.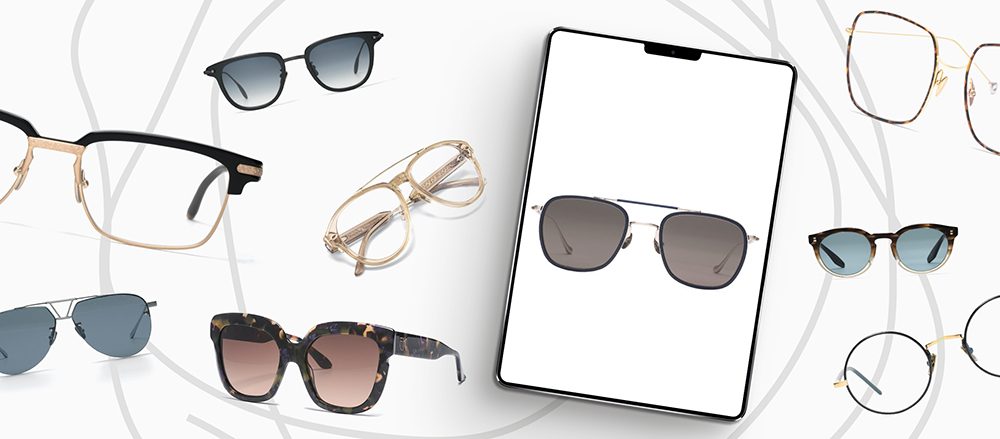 How can you try on glasses online? 
At FAVR you can try on glasses online. On our digital platform you will find a wide range of eyewear. We carry top designer eyewear labels only. These are mainly independent and owner-managed eyewear brands not available in mainstream stores.
Your integrated cam on your smartphone, tablet or desktop computer helps you. The virtual try on works like this: First choose the glasses. Then let us scan your face. Then you can see how the glasses look on you – from all perspectives.
Are you a spectacle wearer? Our technology also works very well for people who wear glasses. To scan, you simply remove your own glasses. This prevents an overlapping of real and virtual glasses. 
Video: Virtual Try On in HD
At FAVR, we're constantly working on improving your experience of trying on glasses online. In order to facilitate and perfection the experience we've introduced Virtual Try-On HD. Check out our video to see how it works.
Which glasses fit your face?
Which glasses fit which type? Many factors play a role here. For example, the shape of your face. It should correspond with the glasses. When you virtually try on glasses at FAVR, you spot it immediately.
The basic rules are very simple. Do you have an angular face? Then you should look for the opposite. Namely oval or circular glasses. Because they look harmonious. Conversely, for round faces, angular shapes are often flattering because the contours are stretched. And what about heart-shaped faces with a broad forehead and narrow chin? Here, oval and round glasses are often better. People with oval faces, on the other hand, can wear almost every frame.
How to match the glasses with your personality
Do you need more advice? Our digital "Match-My-Style" assistant will help you find the right glasses.
How to find top designer eyewear
You can search the FAVR assortment quickly. You can quickly select the material, shape or colors. Glasses made of wood, titanium, carbon? Made of metal or from the 3D printer? You prefer round or square glasses? You like the Panto or Aviator style? You can determine all this with our filters.
Most importantly, FAVR only carries independent eyewear brands. That means eyewear brands beyond the mainstream and chains.
If you want smart suggestions, you can use our interactive style guide tool. You tell us how you want to be seen and we'll show you the eyewear. And of course, you can try them all on online.
Step by step: Virtually try on glasses
With FAVR, look for the "Try On" button. You can virtually try on all glasses – any product on FAVR works. And here's how you get started.
Click "Try On" to start the virtual fitting. Your mobile device or computer will first ask for camera access. Confirm "allow camera access" and enable the "scan" of your face via video.
Start the scan. Slowly turn your face to the right and left. If you wear glasses, please take them off for the scan. Listen to the voice and follow the instructions on screen.
Hold a credit card on your forehead for the right scaling. We recommend this step so that the glasses are displayed correctly. However, you can skip it and do the virtual fit without.
Finally, you can see yourself wearing the glasses. You're able to check out the virtual fitting from all sides.
And now take a look at the Virtual Try On yourself. FAVR has glasses from brands like GÖTTI, CAZAL, LUNOR, BLACKFIN, EYEVAN, MATSUDA, MASSADA, BARTON PERREIRA, HOFFMANN, MASUNAGA, ROLF, SILHOUETTE, THEO and many more. All of them are ready for you to virtually try them on. Have fun!
Try on glasses and visit the optician
After the try on, the next step is to look for a quality optician. FAVR will tell you which opticians near you stock the glasses you want. You will find all the information about the optician and can write messages or make an appointment. All the best for your eyewear purchase!
Below is a selection of glasses from FAVR which you can all try on immediately. Click on the products and see how the glasses fit you.
Try on frames by designer eyewear brands now
The following brands show products on FAVR that you can virtually try on now. All of the products offer the try-on functionality and also include the HD rendering, which means the quality is really good. Check it out!
ALF, AMERICAN OPTICAL, BAARS, BARTON PERREIRA, BLACKFIN, BRETT, CAZAL, CLAIRE GOLDSMITH, COLIBRIS, CUTLER AND GROSS, EINSTOFFEN, EMMANUELLE KHANH, EYEVAN, FACE À FACE, FLEYE, FRANK CUSTOM, GIGI STUDIOS, GÖTTI, GOUVERNEUR AUDIGIER, HELDEN, HENRY JULLIEN, HOFFMAN NATURAL EYEWEAR, IC! BERLIN, J.F. REY, KERL, KIRK & KIRK, KLENZE & BAUM, LEISURE SOCIETY, LUNOR, MARKUS T, MASSADA, MASUNAGA, MATSUDA, MAYBACH EYEWEAR, MCLAREN, METROPOLITAN, MIGA STUDIO, MODO, MONOQOOL, NATHALIE BLANC, NEON BERLIN, NEUBAU, NIRVAN JAVAN, OLIVER GOLDSMITH, ØRGREEN, RAEN, REIZ, ROBERT LA ROCHE, ROLF SPECTACLES, SALT., SILHOUETTE, TALLA, THEO, VAERK, VAVA, VERONIKA WILDGRUBER, VINYLIZE, WOLLENWEBER
---
Photography, header image:
photos SPECTR MAGAZINE / STEFAN DONGUS @spectrmagazine
assistants JANA LUDWIG & KILIAN AMREHN
hair & make-up KERSTIN HUESGES at 21AGENCY
styling NINA FRÖHLICH at 21AGENCY
model ADELINA at COCAINE
location COLOGNE, STUDIO LICHTSTRASSE