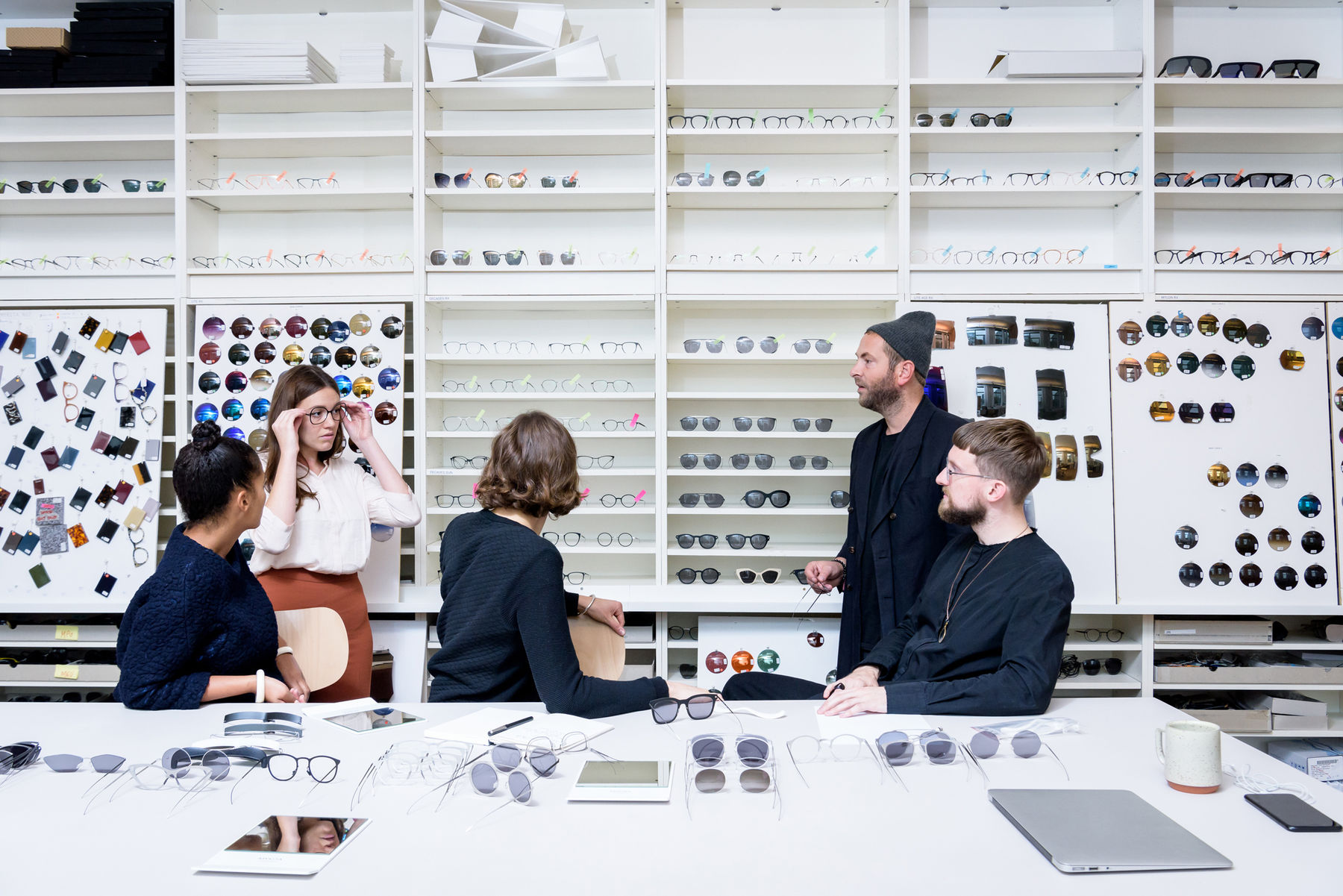 The Best German Eyewear Brands
The best German eyewear brands. But why optical labels from Germany? The answer is rather simple: German eyewear brands command tradition. That's because the country enjoys a reputation for quality, precision and craftsmanship – that's why "Made in Germany" is a sign of quality, also for eyeglasses and sunglasses. Additionally, there is no lack of creativity and great design. Therefore, many of the best German eyewear brands are listed on FAVR. After all, our Premium Eyewear Finder is focused on top designer eyewear brands.
.
---
.
Try on the latest glasses from the best German eyewear brands online here:


>>> Click here for more glasses from German eyewear brands

>>> Click here for more sunglasses from German eyewear brands
---
The best eyewear brands from A to Z
Our selection on FAVR features eyewear 'Made in Germany' but also many others. Because sunglasses and optical frames from Japan, Scandinavia, Italy, France, USA, Austria or Switzerland are just as exciting. We want to deliver the best eyewear brands from all over and most importantly, these independent designer labels are selected and premium. If you happen to like a pair of glasses, we point you towards the best opticians in your area. We cover more opticians than any other website. If you're still unsure about your style, feel free to use our virtual stylist called "Match My Style". And just as good: Simply try on all glasses from home by using our Virtual Try-On tool for eyewear.
Try on eyewear from Germany
Another quick word about our platform: Here at FAVR, we want to offer something for every eyewear fan. We have selected specifically independent eyewear labels because they deliver the best quality and are based on true passion. Whether you are looking for eyeglasses or sunglasses, we try to make it easy: Select your eyewear frames through our filters, browse interesting brands or even use our style assistant function. Once you found your favorite piece of eyewear, try our online try on tool. Just click "Virtual Try-On" and let your camera do the rest. You can read up on our process here in this try on post. But without further ado, here is our list with the best German eyewear brands.
What are the best German eyewear brands?
Iconic design and premium materials such as gold and pure titanium. Plus refined manufacturing processes. That's Cazal. Like very few German eyewear brands, it combines luxury with a healthy dose of craziness. Cazal never forgot its roots that are deeply engrained in hip-hop and 1980s design. The spirit was created by Austrian designer Cari Zalloni. Because of his unique personality, the brand has endured for decades. And it has never lost a bit of its relevance.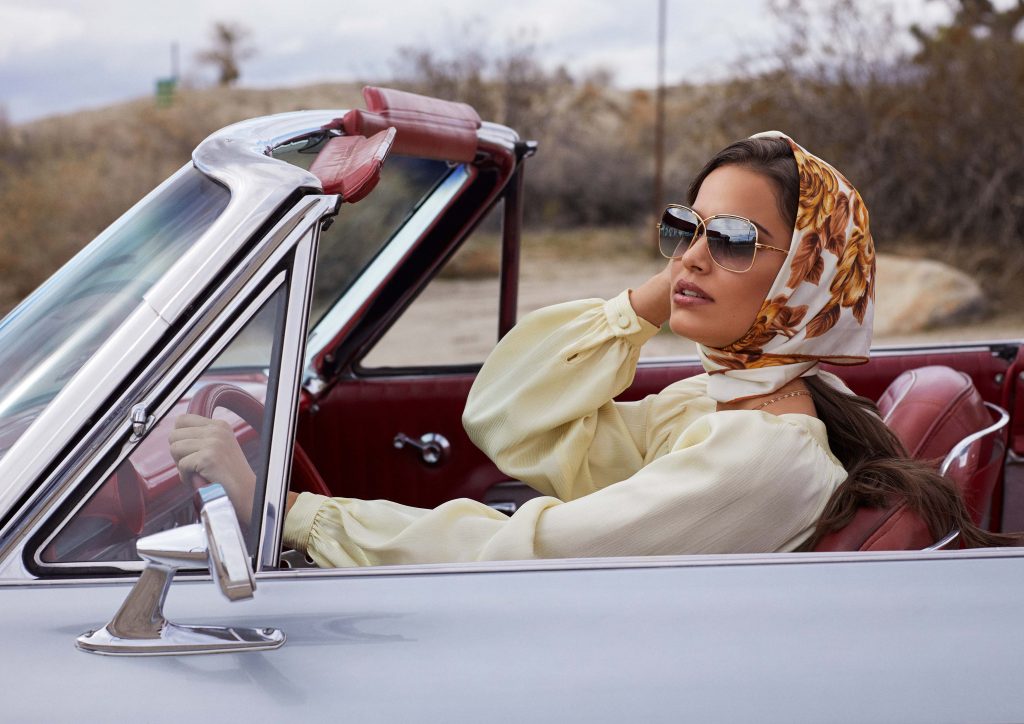 ---
Try on glasses from Cazal online here:
>>> Click here for more Cazal glasses
---
COBLENS – Finest titanium eyewear
Welcome to COBLENS eyewear. The German eyewear brand represents passion, craftsmanship and design. COBLENS has grown from deep roots. It commands longtime experience in the optical industry. Today, it ranges among the leading manufacturers of titanium metal frames. The name COBLENS is derived from the old French spelling of the city of Koblenz ('Coblence'). And it is blended with the English word 'lens'. Since the beginning, the small manufacture has been designing, producing and distributing eyewear frames. Always at the highest level.
"At COBLENS, we are not only making eyewear that's good or better. But excellent just for you." The foundation is a deep enthusiasm for design and a high level of craftsmanship. This helps the workshop create excellent handmade glasses and sunglasses. Sometimes bold and daring. Always titanium strong.
COLIBRIS – Quality Eyewear for Small Faces from Germany
COLIBRIS is a German eyewear brand that specializes in producing high-quality glasses specifically for people with small faces. The brand was founded over 20 years ago by optician Susanne Reckzeh and her husband Wolfgang and is now led by their daughter Elena Reckzeh-Gogoll. COLIBRIS is known for its clear, Nordic-inspired design and commitment to quality. All prototypes are designed in-house, and production takes place with long-standing partners in Italy. The brand also offers the opportunity to order custom-made frames with a variety of lens sizes, temple lengths, bridge widths, and colors.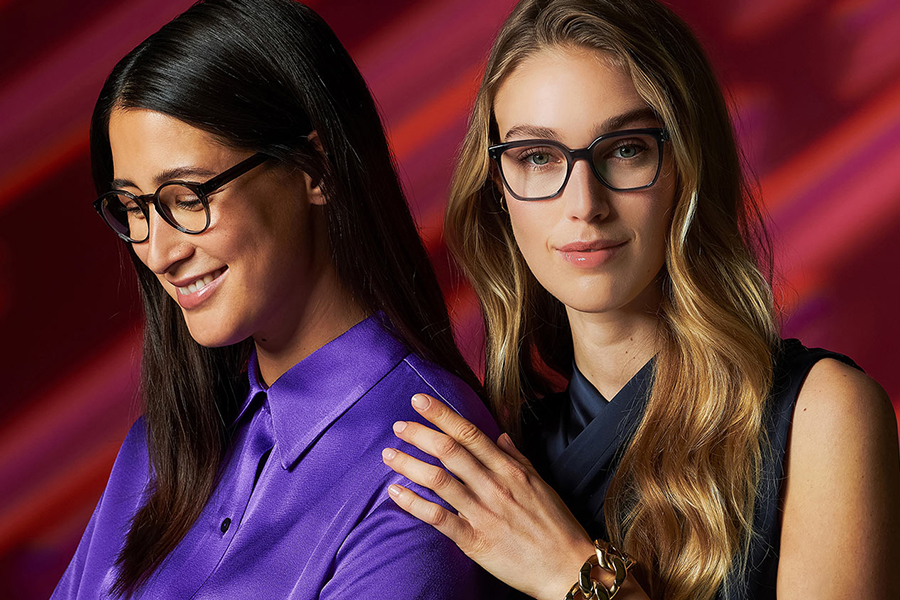 Try on glasses from COLIBRIS online here:

>>> Click here for more COLIBRIS glasses
---
FUNK – A star among German eyewear brands
FUNK is an independent label that set out to be different. Right from the beginning. And to give craftsmanship and design the priority they deserve. The collection 'Dieter Funk' is entirely handmade at the FUNK eyewear workshop. The line includes the FUNK Food line. And also the Dieter FUNK – Made in Germany optical collection. The FUNK Food collection was started in recent years. The reason: to spice up the portfolio. At the same time, 'FUNKroyal' became 'Dieter Funk'. But it's all equally tasty and unique among German eyewear brands.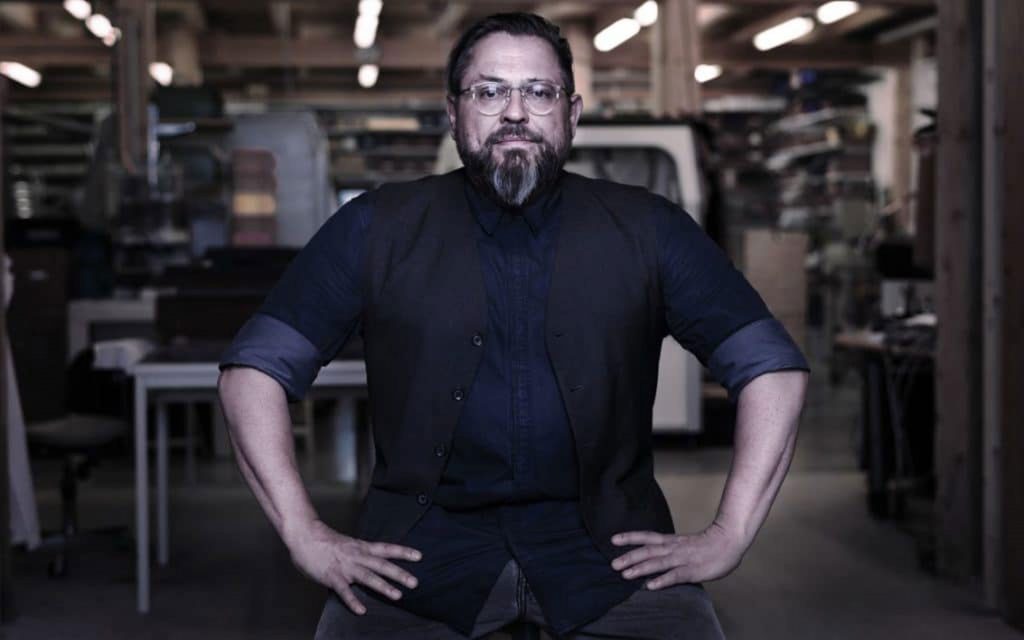 HAFFMANS & NEUMEISTER – Beauty in Minimalism
Daniel Haffmans, Philipp Haffmans and Jean-Pierre Neumeister are already known for their acclaimed work. They have founded, established and designed for the labels IC! BERLIN and MYKITA – they are true eyewear pioneers. With their own and third label HAFFMANS & NEUMEISTER (HNH) they are continuing a 20-year success story. It's a story between tradition and avant-garde in the eyewear industry. They create new collections in an intense confrontation with eyewear history. In a way followed by very few German eyewear brands. HNH redefine archetypal and newly rediscovered shapes in their manufacturing, material, and design.
The result is a line of masterful and wearable metal eyewear frames.These frames are at the highest level of style, lightness and simplicity. Every frame embodies the essence of optical design history. And at the same time, each frame manifests the current zeitgeist.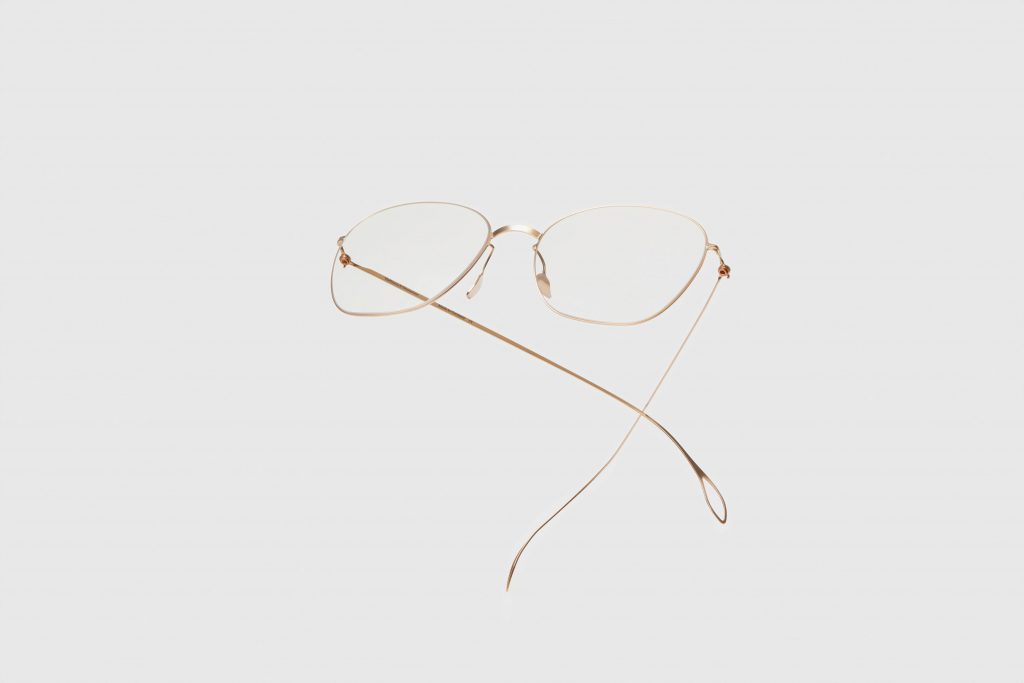 HERRLICHT – Wood pioneers among German eyewear brands
HERRLICHT eyewear frames are 100% crafted from European and North American woods. These woods include maple, cherry, walnut and smoked oak. Wood as a natural material is not only sustainable. It is also warm, flexible, and unique. Consequently, in every HERRLICHT frame the wood grain creates a surface texture. It's a texture that is unique. And one of a kind. Ultimately like rings in a tree.
When the first HERRLICHT wood frame was sold in 2004, the small workshop from the town of Erfurt was still an outlier. But until today the brand has remained true to its style. One hundred percent wood, premium craftsmanship and timeless design: These have remained the calling cards of these pioneers in wooden eyewear. For this reason, their eyewear is sought after across the world. Everywhere people appreciate originality and quality. From these roots, HERRLICHT has grown into one of the most sustainable German eyewear brands.
Sustainability might be a hot trend today. But for HOFFMANN NATURAL EYEWEAR it has been fundamental to company policy since 1978. Unequaled expertise is why the brand is known as 'Masters of Horn'. But horn is far from the only raw material HOFFMANN implements into gorgeous frame designs. The brand also creates frames out of wood, silk, alpaca hair, gold and titanium.
The entire collection is Made in Germany. Always with the goal of emphasizing the wearer's natural beauty. Consequently, HOFFMANN NATURAL EYEWEAR has made a point of never adding any visible logos to their frames.
---
Try on glasses from Hoffmann Natural Eyewear online here:
>>> Click here for more Hoffmann Natural Eyewear glasses
---
IC! BERLIN emerged as the nucleus of Berlin's independent eyewear scene. Currently the label is undergoing a metamorphosis. The face and founder, Ralph Anderl, has stepped back from the spotlight. Moving forward, IC! BERLIN is looking to evolve into an international premium brand. This is happening under new leadership and ownership structure.
However, the label's deep ties into the creative culture of art and music remain. So does the home city of Berlin. Because Berlin is one of Europe's happening hot spots. Another permanent fixture is the screwless hinge. It's a stroke of genius from the brand's inception. So it will continue to offer incredible comfort in IC! BERLIN frames.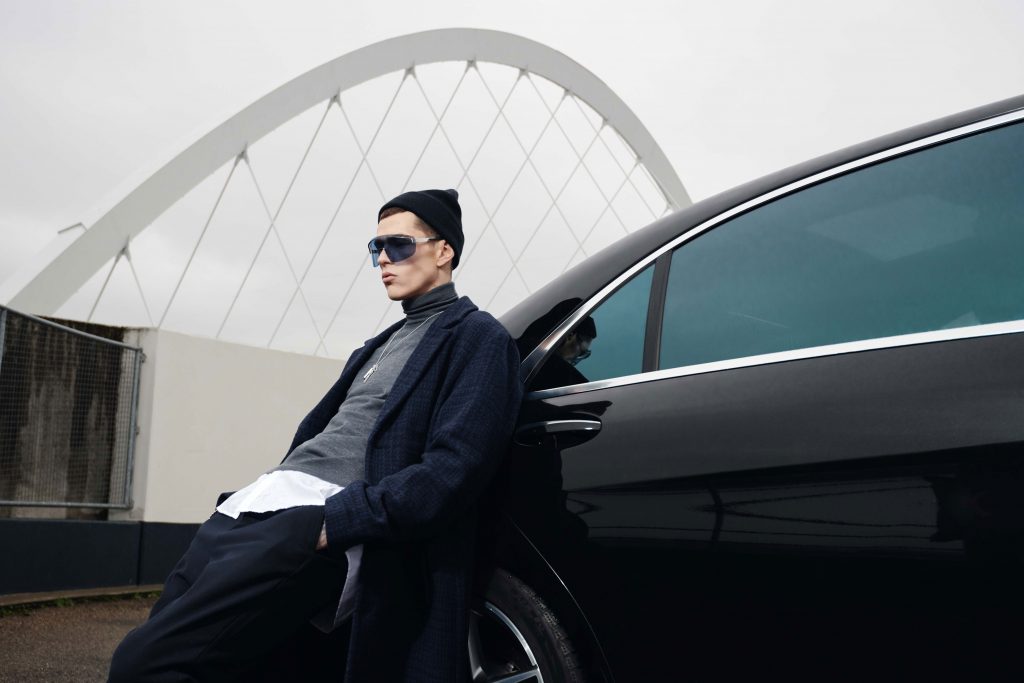 ---
Try on glasses from ic! Berlin online here:
>>> Click here for more ic! Berlin glasses
---
The eyewear workshop in the city of Munich specializes in the personalization of 3D-printed eyewear frames. All models have a key feature: the hinges that separate the temples from the front section. Thanks to innovation, both elements can be rejoined within seconds. The concept is also sustainable. That's because the innovative principle adds longevity.
What's more, wearers can easily switch out the temples. Customization options include sports-specific temples for a secure fit. As a result, KLENZE & BAUM glasses are personalized, rugged, and sustainable.
---
Try on glasses from Klenze & Baum online here:

>>> Click here for more Klenze & Baum glasses
---
KOBERG – Excellence in German eyewear brands
Five years ago, the KOBERG label began creating its own eyewear collection. The main goal was to fulfill a unique vision of value-adding eyewear fashion. All new styles serve a common goal: to translate the characteristic, cylindrical KOBERG hinges into lightweight frame shapes. In that sense, the hinges complement the shape. But they also add a new interpretation. The technology affords extremely small intersections and thin temple shapes. Consequently, KOBERG is an eyewear collection that stands out because of its craftsmanship. The entire manufacturing process is completed in Germany. Always at the highest level of small batch quality.
We personally enjoy the timeless and elegant designs crafted by Josef Lanta. And his screwless hinge principle is the technical standout. The brand also places an emphasis on the best possible components. For instance milled and tempered stainless steel. Additionally, KOBERG relies on coatings by Berlac. Also pads by Frey & Winkler. And not to forget screws and nuts by OBE. The true definition of excellence Made in Germany!
KUBORAUM – Dreamed up in Berlin
KUBORAUM sunglasses are masks designed for the faces of their wearers. Masks that enhance personality and emphasize unique individual character. The brand was founded in 2012 in Berlin. It blends Italian craftsmanship traditions with a unique Berlin spirit of creativity. As a result, all frames are designed in the German capital. They are handcrafted In Italy. The two founders behind KUBORAUM are: artist, sculptor and designer Livio Graziottin and the anthropologist and brand director Sergio Eusebi. The latter also serves as brand, communications, and marketing director.
The duo retains hands-on control of every aspect of the brand. From design to the image. From communications to all photo and video productions. So the entire magic behind the brand is created under their leadership. KUBORAUM also makes a point of having no logo. Every pair of sunglasses is its own mask with a unique look and individual power. For the brand, everything revolves around a unique relationship. The connection between the daring sunglasses and wearers. After all, the mask is not only an eye catcher in itself. It also accentuates the personality and characteristics of the person wearing it.
Traditional eyewear brand LUNOR hails from the picturesque Swabia region. Nevertheless, it has become the darling of Hollywood stars. And that is for a good reason. Because the classic retro designs at the heart of every product. These products are equally unique and timeless. Plus, they also reflect a true passion for optical craftsmanship.
Eyewear aficionado Gernot Lindner founded LUNOR in 1991 in the town of Stuttgart. As the foundation for the brand, he drew on his expansive private eyewear archive. Every piece released by the brand is an homage. It celebrates the tradition of eyewear manufacturing. So LUNOR continues the centuries long legacy of optical craftsmanship.
---
Try on glasses from Lunor online here:
>>> Click here for more Lunor glasses
---
MAKELLOS – German eyewear brand meet Japan
Based in the German city of Potsdam, MAKELLOS is inspired by two  sources: German design tradition meets Japanese perfectionism. The result is a timeless sense of elegance. It draws its characteristic power from minimalism and clarity. This unique cultural intersection stems from the personal history of company founder Thomas Akiyama. He was born in Germany. But his family's roots draw back to Japan. His grandfather, Tokuzo Akiyama, was known as one of the most renowned chefs of his time. And for half a century, he served as the personal chef to the Japanese Royal Court.
After a business trip to the town of Sabae, the journey came full circle for Thomas Akiyama. That's because the city was the epicenter of the Japanese optical industry. At the same time, it was the birthplace of his grandfather. During this very trip, the idea for MAKELLOS was born. Since then, the company has not only represented elegant minimalism. It also stands for exclusive and innovative design. This is reflected in carefully appointed details. Like robust hinges and a patented glassing method. All in the tradition of the Japanese quest for perfection. It is known as the Kaizen philosophy. Masterful!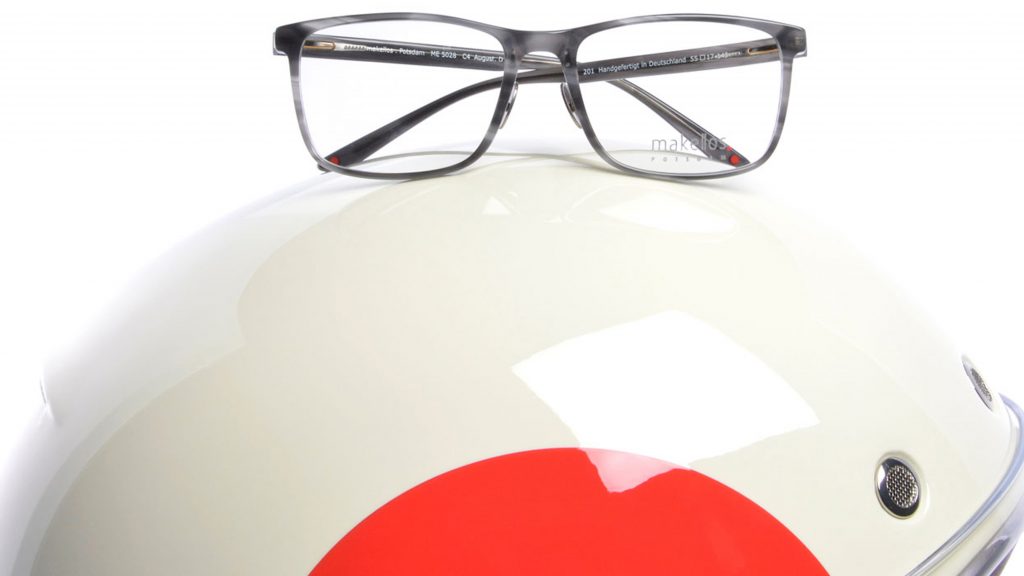 Authentic, genuine, unique: Welcome to the manufacturing workshop of German indie label MARKUS T. It is located inside of a former schnapps distillery in a small German town near Gütersloh. This is where MARKUS T produces equally lightweight and robust frames. The purist design philosophy enhances the wearer's personal type without pretension. Every frame is one of a kind. Also because all frames are created by hand inside the company's studio.
The key characteristic of every MARKUS T frame: the patented screwless hinge. It is at the center of the collection. The hinge of the DESIGN Neo collection is integrated into the temple. It is connected to the front section via a maintenance-free plug interface. The results are highly functional eyewear frames. They reliably serve their wearers for many years.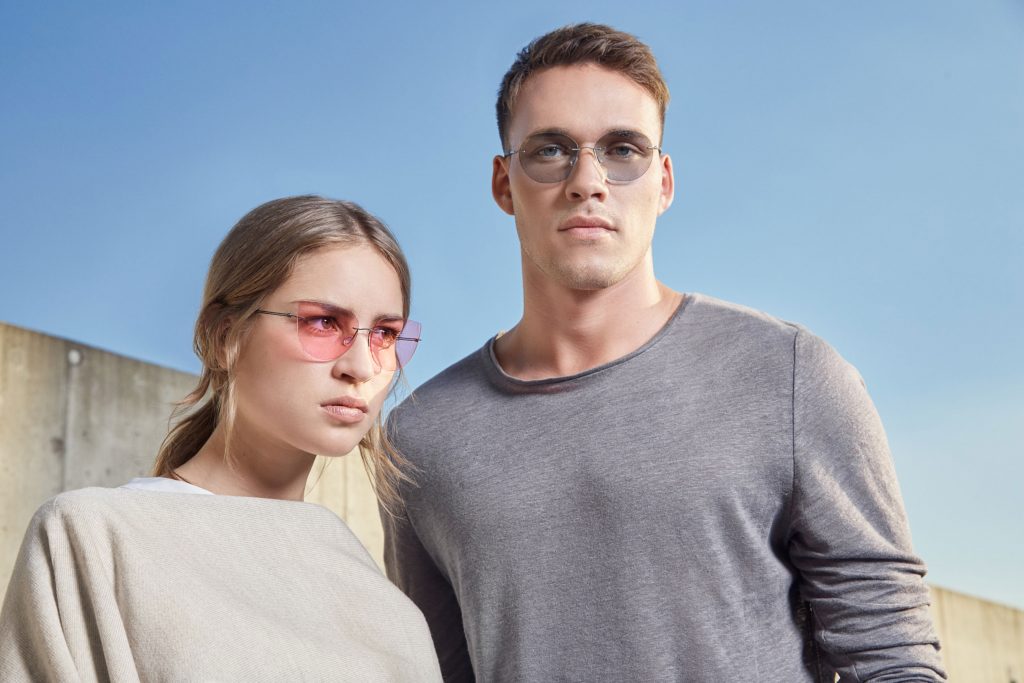 ---
Try on glasses from Markus T online here:

>>> Click here for more Markus T glasses
---
MARTIN & MARTIN – Cologne flavor among German eyewear brands
Eyeglasses are constantly at the center of the face of the wearer. Hardly any other accessory takes such a focal position. That's why the MARTIN & MARTIN collection offers a broad variety of colorways. From soft hues to extravagant and fashionable color tones. The portfolio also surprises with a charismatic form language. Also comfortable touch and extremely convenient fit. The latter is thanks to padded temple tips. All these are core elements of a signature style. A style that has been perfected in the heart of the city of Cologne for more than 20 years. Much to the delight of loyal customers in more than 20 countries.
The unconventional designs are also informed by the brand's history. The history dates back to the year 1997. Back then, the two founders and former classmates met via numerous detours. They combined their shared first name and passion eyewear into a new brand: MARTIN & MARTIN. Since then, the brand has commanded a position among the world's top eyewear brands. And it is far from slowing down.
MAYBACH was started by legendary automobile pioneers Wilhelm Maybach and son Karl. The two laid the foundation for one of the world's most renowned and premium luxury brands. The company created the gold standard for high-end automobiles. Its level of luxury and quality remains appreciated by rap stars and billionaires across the world today. These enduring brand values are also alive in MAYBACH optical products. This fact becomes apparent at first sight. A love for detail, exquisite materials, extraordinary designs, and a touch of extravagance: these valies continue to raise the bar in the luxury eyewear segment.
---
Try on glasses from Maybach Eyewear online here:
>>> Click here for more Maybach Eyewear glasses
---
MENRAD – Modern, relatable, customer-focused
The MENRAD eyewear brand commands 124 years of tradition. The collections offer interpretations of current fashion trends. These trends are implemented into modern optical frames. They combine contemporary designs and wearable shapes. For this reason, the eyeglasses with their refreshing color combinations and clever details appeal to a broad consumer demographic.
A legion of modern eyewear brands are named after their founders. METROPOLITAN heads in a different direction. It pays tribute to a milestone of cinematic history: the movie Metropolis. It is a world-famous masterpiece by director Fritz Lang from the year 1927. The METROPOLITAN style is characterized by strong Bauhaus influences and minimalist designs.
Previous milestones in company history include: A full eyewear collection in homage to the legendary Wassily Chair. The first eyewear frames were crafted exclusively from metal. But the materials selection at METROPOLITAN has since grown. it now includes acetate and more complex compounds.
---
Try on glasses from Metropolitan online here:

>>> Click here for more Metropolitan glasses
---
MUNIC EYEWEAR – Personal stylists in German eyewear brands
"Frame your personality" is more than an empty catchphrase for MUNIC EYEWEAR. It is a company philosophy. A philosophy that values design, premium materials, and harmonious form language. The brand has set out to create eyewear frames that are equally modern and timeless. Frames that underline the individual's personality. But without appearing overpowering.
A MUNIC frame affords wearers a lofty perspective. The unique MUNIC approach to life, if you will. The resulting style can be characterized as a relaxed. Never strained. And most of all, never exaggerated. MUNIC is always stylish and aesthetically at the highest level.
MYKITA – Independent and modern
MYKITA was founded in the year 2003 in Berlin. The first company headquarters were situated in a former childcare center (German "KiTa"). This unique setup not only inspired the brand name. It also spawned a culture of curiosity and learning. This remains at the heart of MYKITA to this very day. From the initial idea originated a strong impulse: to challenge existing norms and conventions. And to follow a unique aesthetic vision. Additionally, MYKITA has a communal-minded company culture. Plus full integrity when it comes to the products.
At first, MYKITA could not find a suitable manufacturer for the unconventional production process. So the brand set up its own manufacturing backbone right in Berlin. It has the unique tools and processes for turning design sketches into real life products. This provided the foundation for a modern-day eyewear manufacturing studio. And it still counts among MYKITA's unique strengths.
Since 2014, the MYKITA HAUS is set up in a landmarked historic building in Berlin. Right in the heart of Berlin's Kreuzberg district. This is where a team of individuals from various national backgrounds works alongside company founder Moritz Krueger. Also in direct contact with a global organization. The constant exchange between professionals in all segments directly influences the overall product quality. This is what the label is known for across the world.
NEON BERLIN is a relatively young but at the same time rather experienced eyewear brand. Like the name says, it's based in Berlin. However, the company name NEON BERLIN may conjure images of endless nightlife, glamorous party people and the nocturnal urban jungle. But actually, the origin is much tamer. Because NEON comes from the ancient Greek word νέον, meaning 'new'. In that sense, NEON BERLIN represents new technologies, innovative ideas and new beginnings.
Additionally, Neon describes the innovative, forward looking, and style-defining influence of the two designers. It represents new materials and innovative manufacturing methods. Also a unique blend between commercial appeal and an unmistakable product DNA. In the process, the brand plays with new and time-honored technologies. The resulting collection is equally grounded in tradition and advancing the status quo.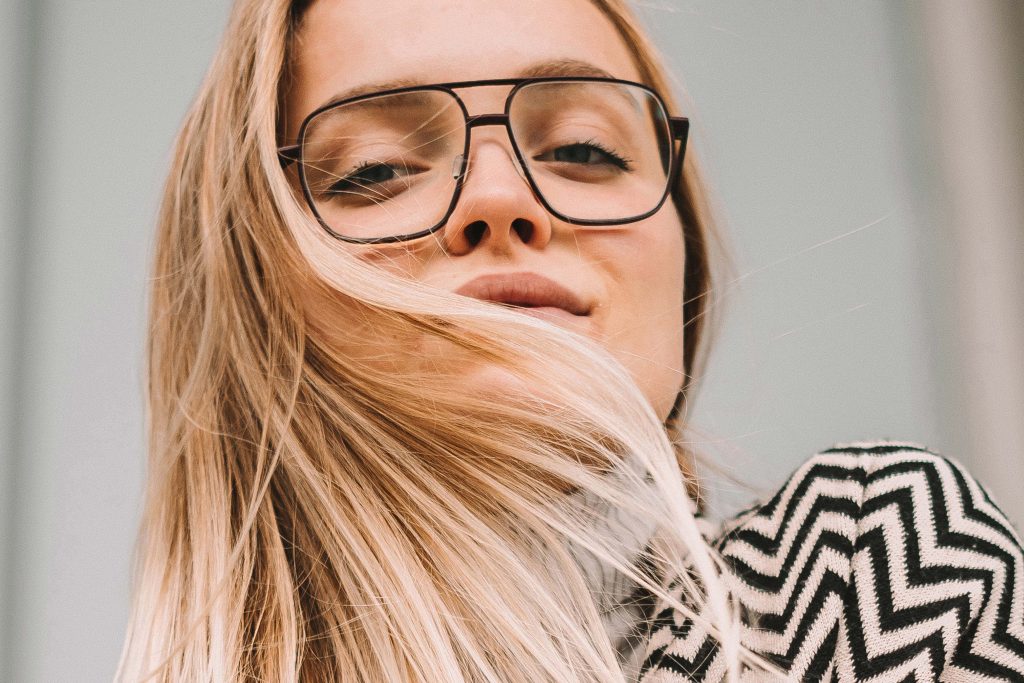 ---
Try on glasses from Neon Berlin online here:

>>> Click here for more Neon Berlin glasses
---
Since 1996, REIZ has been developing eyewear collections that raise the bar in the eyewear industry. The brand is known for its own form language at the intersection between upscale and classical retro style. Plus, a dose of distinct futurism. This unique approach creates collections mostly crafted from acetate. They are equally new and familiar while always charming and visionary. In the year 2015, the brand introduced the AL13 series. It represented a technical milestone as the first series of frames created out of aluminum. The collection is a blend of timeless designs and technical innovation.
Because of its uncompromising quality standards, REIZ has opted to handle the entirety of its manufacturing in Germany. Manual processes combined with state-of-the-art manufacturing technology guarantees flawless quality. Also with a close eye for detail. Across the world, REIZ eyewear is available only at a handpicked selection of premium optical stores.
---
Try on glasses from Reiz online here:

>>> Click here for more Reiz glasses
---
RODENSTOCK – Uncompromising perfection
With a pair of RODENSTOCK glasses, wearers see their environment with different eyes. For more than 140 years, the brand has cultivated a tradition for precisely crafted lenses and perfectly adjusted eyewear frames. The main goal is to offer perfect vision and a flattering look. The unique expertise in both eyewear lenses and frames makes RODENSTOCK unique. Consequently, RODENSTOCK is the only brand in the optical industry that can offer customers the full eyewear package from a single manufacturer.
The company is driven by perfecting the visual quality, comfort of wear, and personality-enhancing aspects. In other words, improving the entire way in which people see and how they look.
Futuristic, extravagant and inspired by architecture: these are the characteristics of eyewear created by Berlin-based designer and company founder VERONIKA WILDGRUBER. The multiple Silmo d'Or award-winning designer describes her frames as 'simple and surprising'. Her collections are marked by three-dimensional shapes. Plus, equally bold and delicate lines. The frames are crafted from experimental material blends that create a sense of depth. Every frame is handcrafted in Italy. It's a meticulously documented process that accounts for the most minuscule parts.
From the very outset, the brand's focus has resided in research and experimentation. This is also due to Veronika's background as a product designer. The collection has cultivated a central, recognizable theme ever since the beginning. Every season, the legacy is reinvented and translated into novel materials and of-the-moment shapes. But through it all, VERONIKA WILDGRUBER maintains what it is known for: an unmistakable and coherent aesthetic that remains without parallel.
---
Try on glasses from Veronika Wildgruber online here:

>>> Click here for more Veronika Wildgruber glasses
---
WILLEMS EYEWEAR – Pioneering spirit and sense of tradition
WILLEMS Eyewear preserves a unique family heritage in the design of its collections. Wilhelm Kraft was a mere 18 years old when, in 1927, he created his very first eyewear frame. It was the start of his apprenticeship as a master optical craftsman. And it was the beginning of a lifelong quest to create the perfect pair of glasses. For the rest of his life, Kraft was driven by a love for detail, innovative technologies and the most premium materials.
Until the year 1938, he worked for German eyewear brand Marwitz und Hauser in the city of Stuttgart. His unique accomplishments include the establishment of eyewear manufacturing processes from gold double. The contribution helped to transform what was previously a complex and high-touch production method. It became a rational and time-efficient manufacturing process for metal eyewear frames. While at Marwitz und Hauser, he also met the love of his life, Elsa Wolf. Together, they laid the foundation for the first generation of the Kraft optical trade family.
Today, the Kraft eyewear dynasty is in its third generation. The grandson, Andreas Kraft, drew on the vision and contributions of his grandfather to start the WILLEMS Eyewear label in 2011. And the rest is history in the making.
WOLFGANG PROKSCH – Eyewear designed for the big screen
Germany-based designer WOLFGANG PROKSCH is a man of manifold interests: design, fashion, architecture, furniture, automobiles, jazz and contemporary art are some of his passions. Known for his extensive autograph collection, he initially studied marketing. After spending several years in management positions, Proksch designed his first eyewear frames. Standouts include work for famous brands. This includes iconic luxury label Bugatti in frames worn by numerous film stars and celebrities.
Even today, his eyewear designs have been cast for major productions. This includes lead roles in the US smash hit TV series CSI:NY. Over the past few years, the name WOLFGANG PROKSCH has garnered a loyal following worldwide. Including places such as Japan, Korea, Taiwan, and Hong Kong. Like few other designers WOLFGANG PROKSCH bridges the gap between industrial design, technical finesse and a clean, sophisticated look with effortless ease.
YOU MAWO – Your Magical World
How does an eyewear brand arrive at a name like YOU MAWO? Well, it all goes back to the company's founding days. During their travels Daniel Miko, Sebastian Zenetti and Daniel Szabo discovered their shared love for the magic of the world. This gave rise to "Your magical World" or in short, "You Mawo". The initial idea for YOU MAWO was laid down in 2012. Then the brand fully launched with innovative 3D-printed eyewear in 2016.
It was an instant success. With its combination of outstanding quality and impressive high-end technology, the brand soon found a loyal following. Fans include opticians and eyewear customers. From the very start, the Bavarian company wanted to create a solution that would allow customizing a personalized, individually fitted pair of glasses for everyone. With this in mind, the brand relies on an additive manufacturing principle. It is known as 'selective laser sintering' to produce personalized polymer frames made in Germany.
Thanks to their unique production process, YOU MAWO offers its collection in two ways: both as ready to wear standardized shapes as well as custom fitted, personalized options. In order to make it happen YOU MAWO created a unique 3D scanning process. It allows to precisely measure the prospective wearer's head. This signature fitting process provides the foundation to create the perfect frame. A frame that is anatomically fitted to each unique individual. Large heads, smallish heads, broad noses or delicate noses – they all qualify to receive a unique frame with the perfect fit.
The best German eyewear brands – and more
Germany is not the only country to enjoy an excellent reputation when it comes to eyewear manufacturing. Other places are also home to a condensed selection of manufacturers. For instance, Japan is known worldwide for premium finishes in delicate titanium frames. On that note, the United States are where modern eyewear labels with on-trend styles are based. So make sure to search FAVR beyond German eyewear brands.
Frame material or country of origin?
As a true citizen of the world, you don't place much emphasis on which country produced your eyewear? So limiting yourself to German eyewear brands would not be very cosmopolitan. Then perhaps searching for new frames by material category is more your speed. For this reason, here's our selection of eyewear across a number of different materials: