The Best Opticians in the Netherlands
The best opticians in the Netherlands in one post? Not an easy task, but let's try. The Netherlands is known far beyond its borders for its high affinity for design. Shopping here is always an experience. This is also the opinion of many visitors from Germany and Belgium, who are only too happy to make the trip to neighboring Netherlands to check out premium eyewear in the beautiful boutiques. Style is also a feature of the many optical stores in the Kingdom, which often offer their customers a modern range of products.
It is particularly striking that we find many of the best opticians in the Netherlands far away from the large metropolises. Not only in Amsterdam and Rotterdam is there a good range of high-quality opticians, but also in places like Tiel, Ede, Hoevelaken or Monnickendam. Never heard of them? Then our selection will definitely help you. You can find over 500 quality opticians here on FAVR. You can find your personal favorite optician directly via the location search. Here we present a representative cross-section of the many good opticians. In search of the perfect glasses, we travel from west to east and from north to south.
Here is our convenient search page for the best opticians in the Netherlands
You are interested in eyewear brands? Then visit this post to check out the best eyewear brands from Belgium, the Netherlands and Luxembourg.
The best opticians in the Netherlands – our criteria
The experts listed here do not only convince through competence, professional advice and high quality top designer eyewear. They also boast modern interior design, an exclusive portfolio of eyewear brands and a contemporary internet presence. It goes without saying that they clearly know how to communicate with their customers. All of the opticians listed here are all about premium eyewear, because that's what our FAVR platform and the associated product range are all about. The best opticians in the Netherlands? Here they are.
LUKX Optiekspecialisten, Haarlem (-> Store Profile)
Spekstraat 2, 2011 HM Haarlem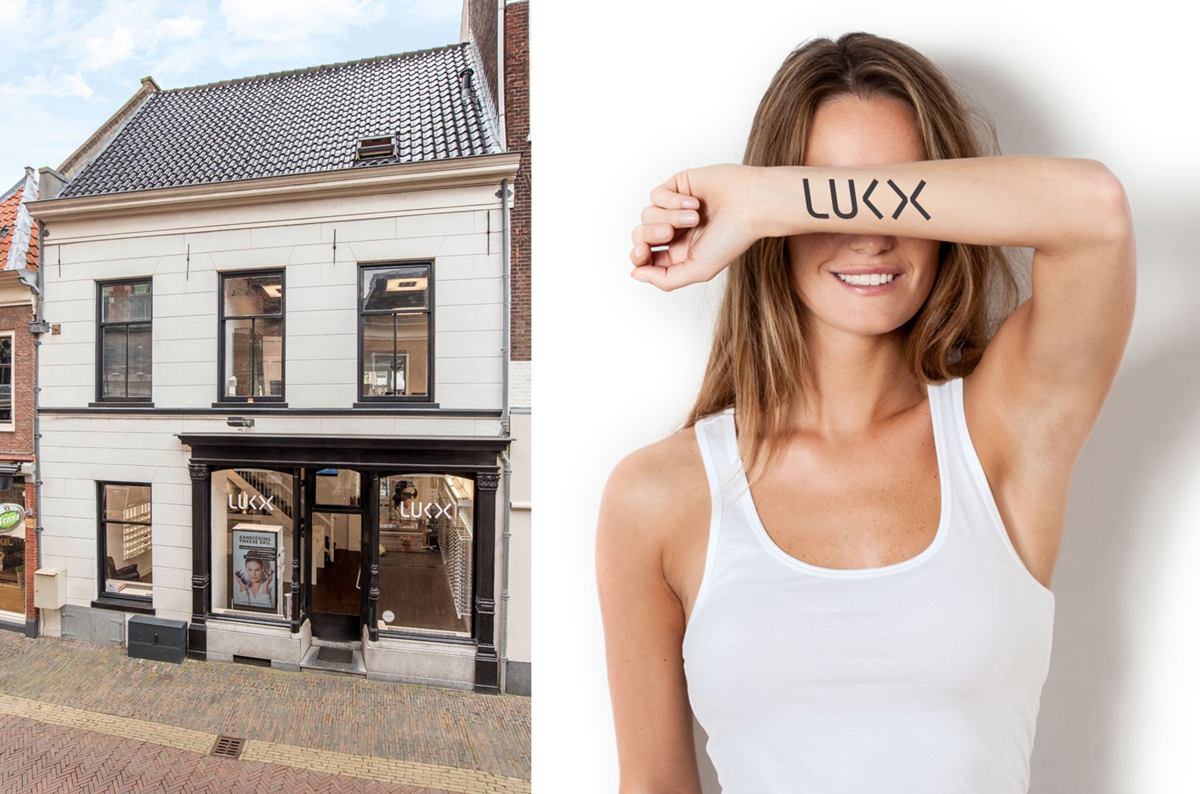 Our top store in Haarlem is LUKX Optiekspecialisten. Halfway between Amsterdam and the North Sea coast, the discerning customer will find an exquisite selection of premium brands – all in a pleasant environment right in the center. This Haarlem eyewear retailer is surely one of the best opticians in the Netherlands.
Top Brands:  BAARS, CLAIRE GOLDSMITH, GÖTTI, LEISURE SOCIETY, MASUNAGA, OLIVER GOLDSMITH, ROLF, THEO, WOLLENWEBER, ANDY WOLF, CUTLER AND GROSS, DITA, JAQUES MARIE MAGE, LINDBERG, MYKITA, ØRGREEN, … and more.
---
|
blick brillen, Rotterdam (-> Store Profile)
Pannekoekstraat 37A, 3011 LC Rotterdam
"It's in our DNA to provide you with a perfect view and a style that's perfectly yours" – that's the claim of our top store in Rotterdam. If you take a look at the extremely stylish interior of the store in the Pannekoekstraat, you lose the last doubts about the truth of the self-confident claim – if you had any. Besides the appealing store interior, it's also well equipped digitally. On the website of blick brillen you can try on many of the models from the store.
Top Brands:  ALF, BARTON PERREIRA, CLAIRE GOLDSMITH, HELDEN, OLIVER GOLDSMITH, REIZ, SALT., VERONIKA WILDGRUBER, ANDY WOLF, GLCO, HAFFMANS & NEUMEISTER … and more.
Virtual Try-On @ blick brillen – Try on premium glasses online.
---
|
Mestrini Opticien, Maastricht (-> Store Profile)
Stationsstraat 58, 6221 BR Maastricht
Our southernmost optician in this guide spoils its customers in Maastricht with a top-class assortment. From Barton Perreira to Rolf Spectacles – at Mestrini even the most demanding customer can find his new glasses. Visitors from nearby Aachen or Liège also enjoy such a selection of eyewear.
Top Brands:  BARTON PERREIRA, EINSTOFFEN, GOUVERNEUR AUDIGIER, HOFFMANN NATURAL EYEWEAR, MATSUDA, ROLF, THEO, WOLLENWEBER, DITA, LINDBERG … and more.
---
|
Bril & Lens, Monnickendam (-> Store Profile)
Zuideinde 25, 1141 VG Monnickendam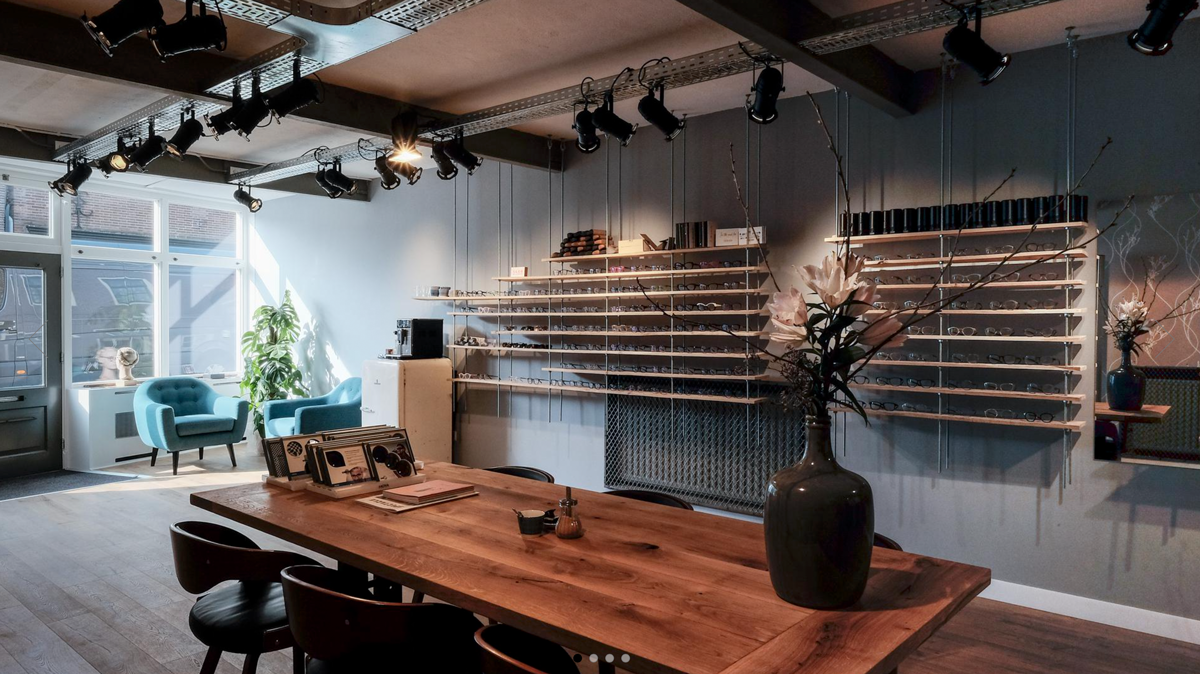 Not far from Amsterdam, on the Markermeer, we find the beautiful store Bril & Lens. Tidy, modern and yet cozy, glasses from unusual labels are presented here. If you are coming from the north-east and want to avoid Amsterdam, you will find high-quality eyewear with top service here as well.
Top Brands:  EYEVAN, HELDEN, IC! BERLIN, VAVA, VERONIKA WILDGRUBER, GLCO, HAFFMANS & NEUMEISTER … and more.
---
|
Hoflake Optiek, Hoevelaken (-> Store Profile)
De Wiekslag 20, 3871 AS Hoevelaken
At Hoflake Optike great emphasis is placed on advice. And not only that captivates the store on Hoevelaken near the Amersfort. The customer is welcomed in a bright, tidy store – particularly eye-catching are the beautiful ceiling lights, which in turn fully accentuates the exquisite brand selection.
Top Brands: FRANK CUSTOM, HELDEN, J.F. REY, NEUBAU, ANDY WOLF, GLCO, MYKITA, ØRGREEN … and more.
---
|
Eekelaar Eye Fashion, Tilburg (-> Store Profile)
Heuvelstraat 59, 5038 AB Tilburg
Even in tranquil Tilburg you can find top designer brands at Eekelaar Eye Fashion in the Heuvelstraat. A select portfolio of brands awaits the customer. In addition to many fashion brands, you will also find progressive eyewear brands such as Neon Berlin or Klenze & Baum.
Top Brands: EMANUELLE KHANH, GÖTTI, HOFFMANN NATURAL EYEWEAR, IC! BERLIN, KLENZE & BAUM, NEON BERLIN, ROBERT LA ROCHE, THEO,VAVA, VERONIKA WILDGRUBER, DITA … and more.
---
|
Optiek Van Wely, Roosendaal (-> Store Profile)
Nieuwe Markt 66, 4701 AL Roosendaal
Roosendaal in the province of Noord-Brabant is home not only to the largest pumptrack in the world, but also to one of the most beautiful optical stores in the Netherlands. While the former attracts cyclists from all over, Optiek van Wely is on the list of top opticians and is also popular with customers from nearby Belgium. A super clean store provides an appropriate feel-good atmosphere.
Top Brands:  BAARS, EYEVAN, LEISURE SOCIETY, ROLF, SALT., THEO, LINDBERG … and more.
---
|
Ritsevoort 43, 1811 DM Alkmaar
The Oogkamer in Alkmaar is our top store in Noord-Holland. In a classic noble ambience, high quality eyewear from just such brands are offered. Brands like Theo and Cutler and Gross set the direction and make a strong statement.
Top Brands:  BARTON PERREIRA, EYEVAN, HOFFMANN NATURAL EYEWEAR, IC! BERLIN, THEO, ANDY WOLF, CUTLER AND GROSS, MOSCOT… and more.
---
|
Oogappeloptiek, Amsterdam (-> Store Profile)
Van Baerlestraat 24, 1071 AX Amsterdam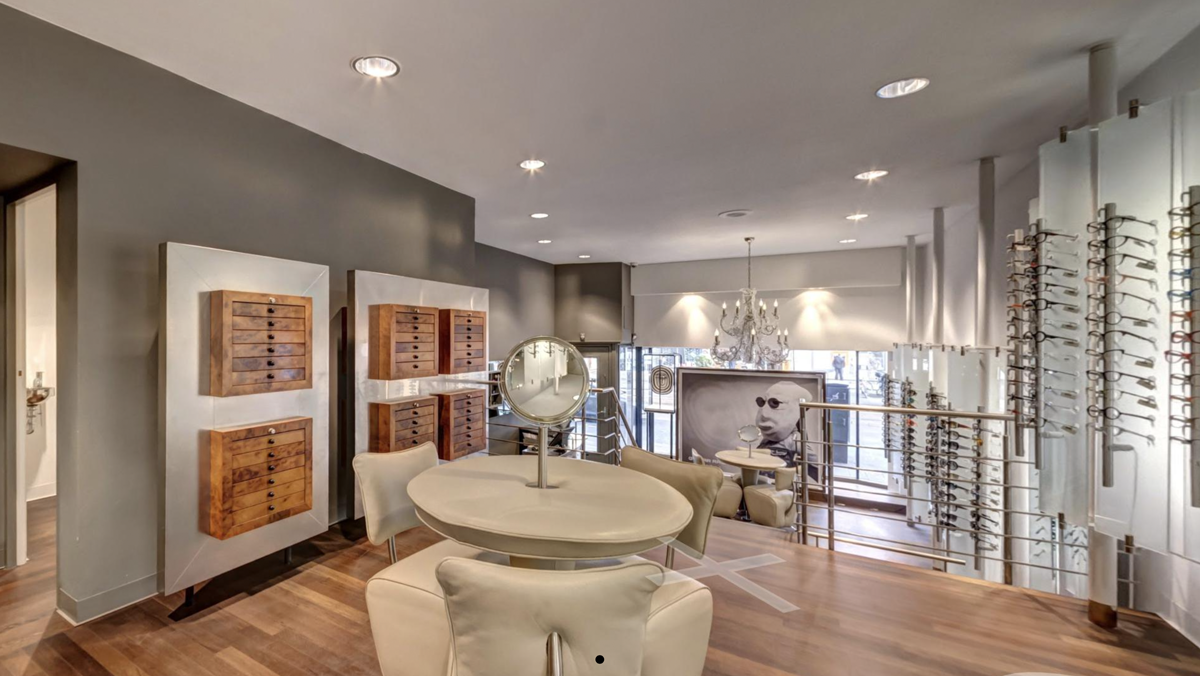 Oogappeloptiek is one of the best optical addresses in Amsterdam. The store near Vondelpark is home to brands with that certain something, such as Theo and Claire Goldsmith. Oogappel is particularly proud to carry the widest possible range of brands.
Top Brands:  CLAIRE GOLDSMITH, EYEVAN, OLIVER GOLDSMITH, THEO, WOLLENWEBER, DITA … and more.
---
|
Klaasstraat 23, 5911 JN Venlo
Xie Eyewear is one of the top opticians in the south-west of the Kingdom. Venlo exerts a tremendous attraction, especially on visitors from Germany. Quite a few of them are impressed by the futuristic interior of Xie Eyewear. The assortment also convinces with modern styles, e.g. from Cazal or Gigi Studios.
Top Brands:  CAZAL GIGI STUDIOS, THEO, VINYLIZE, WOLLENWEBER, ANDY WOLF, DITA, MYKITA … and more.
---
|
Mijn Optiek Kale, Zwolle (-> Store Profile)
Wade 11, 8043 LR Zwolle
Our favorite optician in the capital of the province of Overijssel is Mijn Optiek Kale. Located in Zwolle, not far from Ijsselmeer ,here not only the big but also the small customers are supplied with a balanced assortment.
Top Brands: BLACKFIN, GÖTTI, HELDEN, MARKUS T, MIGA STUDIO, SALT. … and more.
---
|
Telefoonweg 212, 6711 NB Ede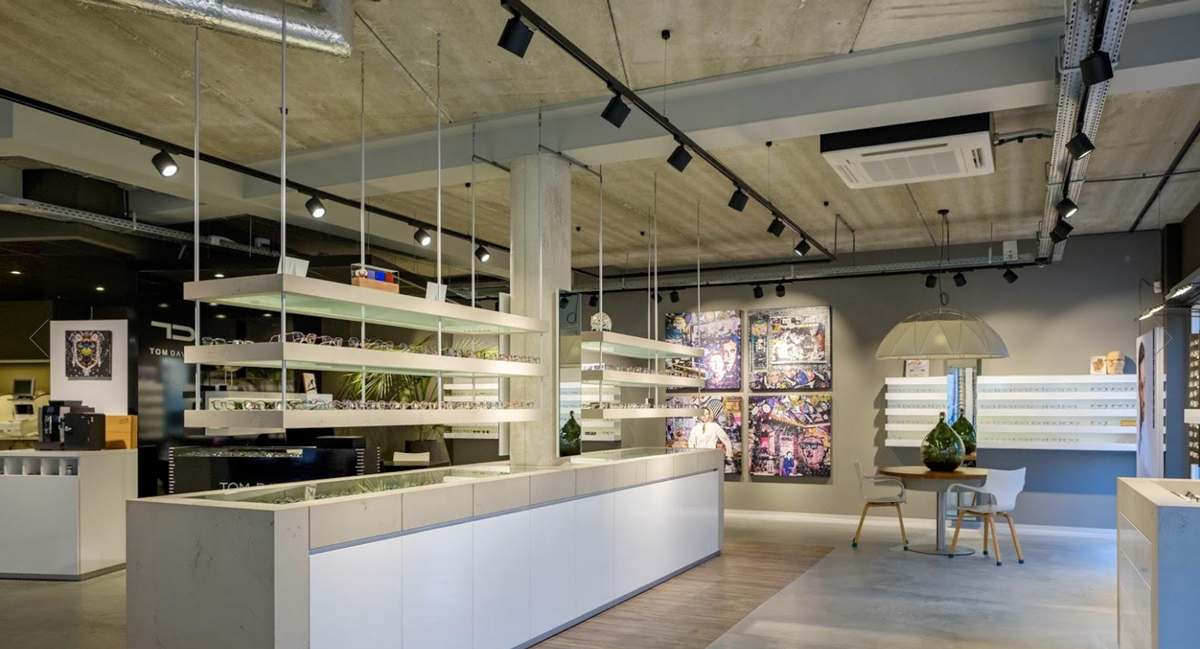 Van der Wiel is another visual jewel far away from the big metropolises. Located in the heart of Gelderland, the store surprises with a very modern concrete look. The brand assortment with brands like Ørgreen, Lilndberg and Modo is just as design-heavy as the interior. At Van der Wiel, buying glasses becomes an experience.
Top Brands:  MATSUDA, MODO, SILHOUETTE, GLCO, HAFFMANS & NEUMEISTER, LINDBERG, ØRGREEN … and more.
---
|
Weerstraat 21, 4001 LB Tiel
Last but not least, we would like to introduce you to the Brils store in Tiel. At Brils, they place a particularly high value on individual advice and models beyond the mainstream. You will not find any licensed fashion brands here. At Brils you will only find very special designer labels such as Cazal, Haffmans & Neumeister and Siens Eyecode.
Top Brands:  CAZAL AHLEM, ANDY WOLF, GLCO, HAFFMANS & NEUMEISTER, SIENS EYECODE … and more.
Were we able to help you to find the right optician? No problem. On FAVR, we present a portfolio of over 500 opticians with glasses from over 50 premium brands. If you're interested in opticians all over the world, make sure to check out our other articles about, for instance, the best opticians in the world, in Germany, or in cities like Zurich.
Here's our comfortable search page for the best opticians in the Netherlands