The Best Horn Eyewear Frames
The best horn eyewear frames deserve a close look. It's one of the most special materials in the market, but it's all quality. As a rule of thumb, only premium eyewear brands make the best horn frames. That's because it's a unique material, similar to carbon or titanium. The eyewear industry relies on it heavily, and independent brands love it for its exceptional qualities. So, what is horn, and why is it ideal for eyewear?
Want to buy horn-rimmed frames? Go straight to our horn eyeglasses selection.
What is horn?
Eyewear brands source horn from water buffalos that are native to Africa and Asia. After their natural lifespan they leave behind their horns as a kind of byproduct. But horn eyewear wasn't always a popular product. The public perception has come a long way. In the 1960s and 1970s, horn still ranged as the pinnacle of anti-cool. It took decades before horn was able to climb into the upper echelons of fashion. Now, some of the best eyewear brands in the world are using horn for their frames.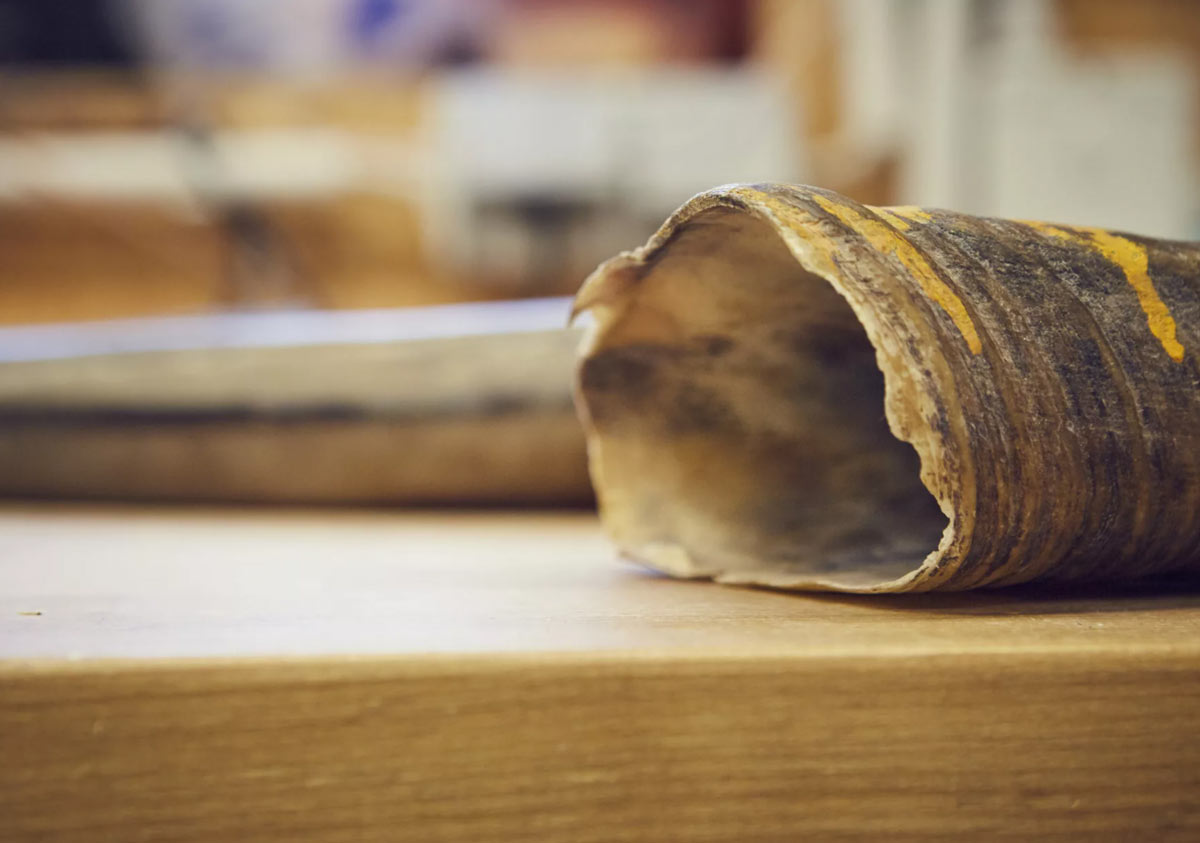 Horn's rich color palette
Buffalo horn has a unique grain surface pattern that sets it apart. The color palette varies from bright creme white to dark brown, offering a wide range of options when combined with wood, silk, or dyed horn material. Manufacturers and fans of eyewear appreciate the material for its rich colors.
The structure of horn
Horn eyewear frames are unique because of their natural material and surface structure. Although modern polymers like cellulose acetate can imitate the horn-like surface, they are still considered "horn" eyewear. Genuine horn is becoming increasingly popular among popular designers and independent premium brands in their current collections.
Horn eyewear frames are robust and adjustable
Since horn is a natural product, it also requires more tender love and care than other materials. Although it's comparatively resilient to weather, any prolonged exposure to direct sunlight should be avoided, much like cleaning with care products that contain solvents. The modern UV-light cleaning method is also unsuitable for genuine horn eyewear.
Horn is suited for prescription lenses
Despite their rather striking appearance horn frames are surprisingly adaptable. What's more, horn is especially suited for encompassing strong prescription lenses. Even at high diopter levels, thicker lenses still fit snuggly in these robust frames. Because of their sturdy build and smooth surface texture, horn frames also afford a high level of comfort compared to other materials. And of course, horn eyewear frames still look great, even with the prescription lenses.
Horn eyewear brands love the natural colors
Thanks to current production technologies, every pair of horn eyewear can be fitted to the individual shape of the wearer's face. Horn frames from leading eyewear brands make an especially strong appearance in natural colors. They stand for a trust worthy business look in theirs warm color ways such as gold or leather.
The best horn eyewear brands
We have selected the best manufacturers of horn-rimmed eyewear from the premium segment. All these eyewear brands have made the natural material horn their passion. From some of them you can also virtually try on glasses right here at FAVR. Among the most prominent and hottest producers of horn eyewear are:
HOFFMANN NATURAL EYEWEAR: horn-rimmed glasses from the Eifel region
HOFFMANN NATURAL EYEWEAR is a German brand that creates eyewear using natural materials like horn, silk, and wood. Sustainability and naturalness are at the forefront of their mission, which has earned them fans worldwide. Their glasses are well-known for their individual look, which is a result of using these unique materials. This approach has been successful since 1978, not just for horn glasses. Visit FAVR to explore HOFFMANN NATURAL EYEWEAR products.

>> Click for more HOFFMANN NATURAL EYEWEAR horn-frames
LUNOR: Simple horn eyeglasses from the Black Forest
LUNOR is a German eyewear brand that has been making high-quality glasses since 1991. They prioritize original craftsmanship and focus on quality. This dedication has earned them global recognition. LUNOR uses horn as a material and creates classic and sustainable frames. Visit FAVR to explore LUNOR products.

>>> Click for more LUNOR horn-frames
WOLLENWEBER: Authentic Natural Horn Products
WOLLENWEBER is a genuine German eyewear brand. It's situated in a small village with only 260 people in the volcanic Eifel region. Despite the location, the company has been producing horn frames since 1982. The place is an idyllic haven and perfect for creating natural treasures. WOLLENWEBER serves customers worldwide who value fine workmanship, sustainability, and beauty, all based on natural materials.
>> Click for more WOLLENWEBER horn-frames
Buy horn glasses at your local optician
FAVR allows you to try on glasses online with the virtual try-on button. However, it's best to visit an optician for expert advice on your chosen pair. Look for opticians in your area listed under each product. Enjoy shopping for your horn-rimmed glasses!
Other high quality eyewear materials
On FAVR you will not only find horn-rimmed glasses. Also other materials convince in the production of glasses by very special properties. Inform yourself and let yourself be inspired before you decide for a certain material.
The best eyewear made from wood
The best eyeglasses and sunglasses made with 3D printing
The best titanium eyewear