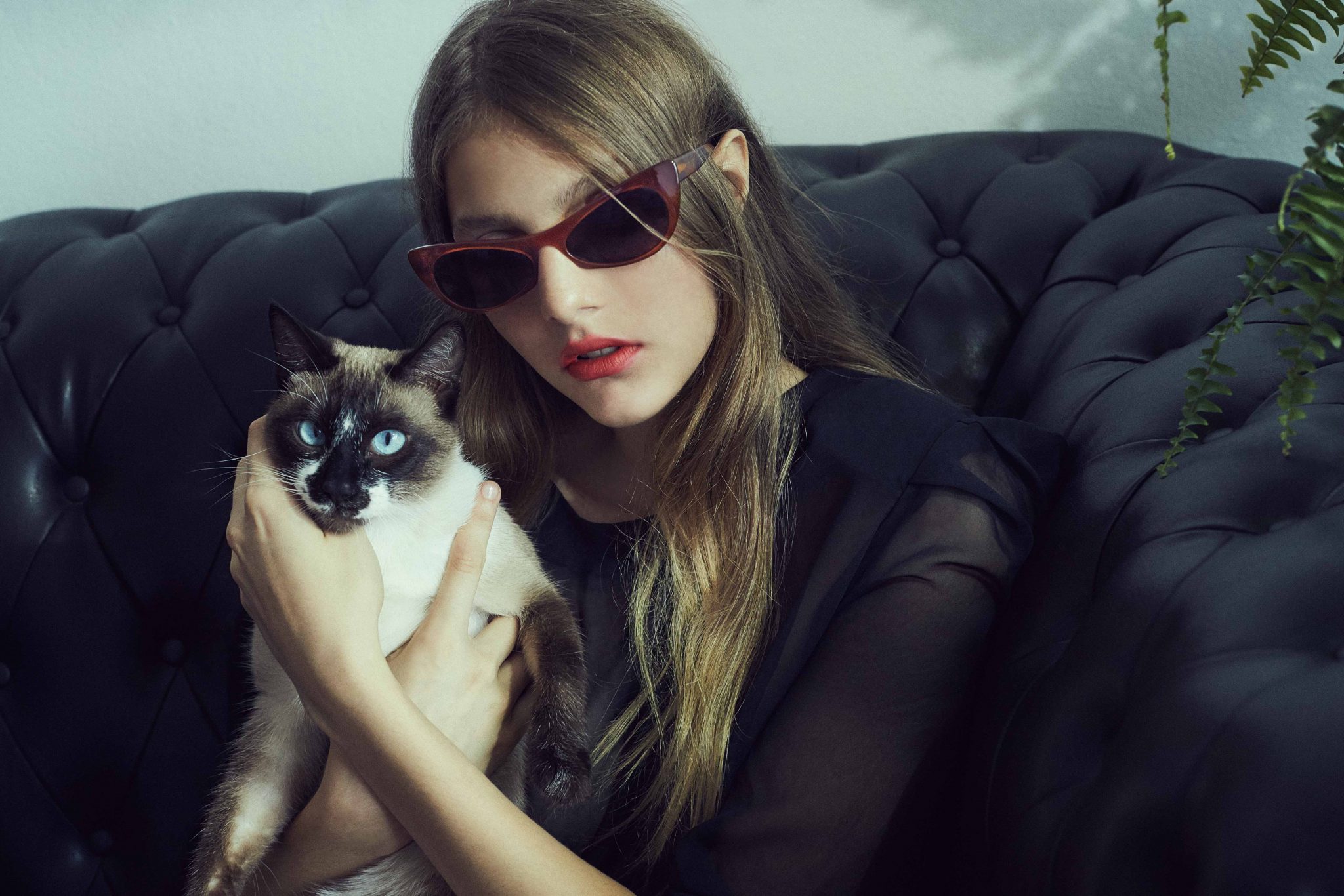 What is the one fashion accessory today's leading influencers and sex symbols need? That's right, cat eye frames! They shine as sunglasses or prescription styles. These generously-sized glasses with their upswept lenses have been a staple for premium eyewear brands for the past decades. Before that, Hollywood's leading ladies made cat eye glasses their calling cards in the 1950s and 1960s. For example, actresses like Elizabeth Taylor made cat eye frames symbols of powerful women. Want to follow in their illustrious footsteps? Therefore, we compiled a selection of the Top 9 Cat Eye-Style Frames. Most importantly, you can see on your own face instantly in our Virtual Try-On tool. Meow!
.
---
.
Try on the latest cateye glasses online here:

>>> Click here for more cateye glasses
>>> Click here for more cateye sunglasses
---
Cat Eye
Frames: History of a Design Icon
According to legend, cat eyes go back to a fashion-minded New Yorker. That is to say, Altina Schinasi ordered the first customized cat eye frames from her optician. Allegedly, she was inspired by harlequin masks from carnival celebrations in Venice, Italy. In those early days, cat eye specs were mostly worn as prescription glasses. But that changed overnight in 1961 with "Breakfast at Tiffany's". In the cult movie, Audrey Hepburn can be seen wearing a pair of oversized sunglasses in cat eye style. To clarify, this was the 'Manhattan' model by Oliver Goldsmith.
Suddenly, women couldn't get enough of tinted cat eye sunglasses. After all, they soon became staples in the sunnies segment. Famous cat eye aficionados included Elizabeth Taylor, Marilyn Monroe, and Barbara Windsor. Subsequently, the historic successors of cat eye frames became the oversized bug-eye glasses of the 1970s. However, cat eyes never fully disappeared from eyewear design. Today, self-confident super stars such as Rihanna, Bella Hadid and Kendall Jenner can be seen rocking the classic style with new pizzazz.
What exactly makes a true 'cat eye' frame?
Also known as 'butterfly glasses', cat eye spectacles are defined by pointed lenses with an upsweep along the brow line. In terms of materials, cat eyes have a tendency towards acetate. But also classic natural horn. Recently, a new generation of metal cat eyes have emerged on the scene. Moreover, these newcomers also incorporate titanium. Historically speaking, cat eyes first made a splash as prescription frames before setting the trend in the sunglasses segment. Subsequently, cat eye sunglasses have experienced a glorious comeback since the early 2000s.
Modern interpretations of cat eye frames
The signature upsweep along the brow line has remained a definitive characteristic of cat eyes from day one. But in terms of size, cat eyes have evolved from rather petite beginnings into more and more generously appointed sizes since the 1960s. Along those lines, contemporary cat eye frames from premium brands are trending towards oversized looks, for instance in the shape of rimless frames for a futuristic cat eye style. But there are also exceptions, like micro frame cat eyes. Despite all those variations, one thing remains certain: These classic frames are far more than a fleeting trend. In conclusion, they have retained their sex appeal in the eyewear design universe over the years.
What types of wearers are best suited for cat eye frames?
At the moment, the lines between genders are blurring in the eyewear world. But nevertheless, cat eye frames are a big exception: Although some bold men could be seen wearing cat eyes in the halcyon days of the 1950s, out in the wild we see mostly female wearers of cat eye frames. Generally speaking, the butterfly frame will flatter any shape of face. But please note: Size matters! Oversized cat eyes will fit anyone, but more petite variations and prescription cat eyes should definitely be fitted by a professional optician.
Check it out: The 9 Top Cat Eye Frames
Almost every premium brand carries multiple cat eye styles in current collections. To provide an overview, we have created a selection of the 9 Top Cat Eye Frames of the Year 2020. Also feel free to take a closer look to see if those sexy frames are purrfect for you in our Virtual Try-On. Additionally, you can check if cat eyes glasses match your individual style. We call this feature Match My Style and you can try it entirely free right here. So if you want to copy the style of classic Hollywood ladies like Audrey Hepburn or Marilyn Monroe, or whether you like the current style from stars like Rihanna or Bella Hadid, keep your eyes open for the best cateye frames pictured here on FAVR.
Are you looking for a quick summary of all trending cat eye sunglasses by premium brands featured on FAVR? Then simply follow this link. In addition, if you're looking for RX cat eye styles, you'll find them right here.
Other popular eyewear styles
Variety is the spice of life! Therefore, the FAVR platform features more than just premium cat eye frames. Most importantly, there's a wealth of trending and classic eyewear styles that have stirred up the eyewear universe over the past decades. So have a look at some of our feature articles highlighting these styles:
or
Are you looking to see which frames suit you best? Our Style Assistant can help!
Not sure if you're a cat eye girl? Our FAVR Style Assistant helps you make quick and educated choices and check if cat eye glasses match your particular individual style. We call this feature Match My Style and you can try it entirely free right here.
---
Photography, header photo:
photo SACHA TASSILO HÖCHSTETTER
styling JOAO VICTOR BORGES
hair & make-up ANDRÉ MATTOS
model LIVIA ARAUJO at PRIME MODEL MANAGEMENT
location SÃO PAULO