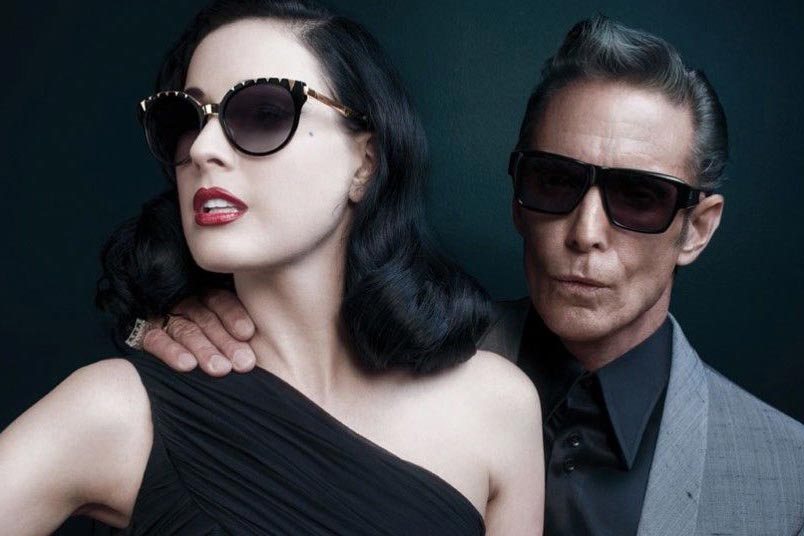 The Best American Eyewear Brands
The best American eyewear brands in a list? Not easy. But the FAVR eyewear platform is here to help. Our focus is on independent glasses brands. These are high quality eyewear houses you won't find at mainstream dealers – don't expect any Rayb-Ban, Tommy Hilfiger or Tom Ford frames here.
The eyewear brands we focus on are original, premium and high-quality. You will will find them at your local optician in your area. Our curated platform shows a selection of the best frames from the best brands. Some of them come from around the globe – from France, Italy, Germany or Scandinavia. But this one is all about the United States of America. Born in the USA? Yes, these sunglasses and optical frames are!
Some of these most influential and best American eyewear brands – and top eyewear designers – call the United States their home. They have done so for decades. This is especially true for independent labels – and they still lead the way in terms of fashion, design and of course manufacturing of (American) eyewear. As you can see, The US is up there with the others. And why is eyewear Americana so special? There are a number of reasons. Please check them out below – and of course our list of US eyewear brands.
.
---
.
Try on the latest eyewear from the best American eyewear brands online here:

>>> Click here for more glasses from American eyewear brands

>>> Click here for more sunglasses from American eyewear brands
---
The US has top eyewear designers
What makes American eyewear brands special? First of all, it's a tradition for innovation and advanced design. Furthermore, American glasses designers have often been the first to create iconic styles. For example, the history of aviator frames goes back to the United States in the 1930s. American eyewear labels also have a penchant for using the most premium materials. One strength is the material acetate, prominently used by brands from California. American brands also explore wood and titanium frames. Premium materials make desirable eyewear frames – whether aviator, P3 or cat-eye.
Hollywood loves American Eyewear
Eyewear brands from the USA are closely connected to Hollywood film studios. There's a long list of eyewear featured in movies. A lot of them were blockbusters. This includes "Breakfast at Tiffany's" in 1961. Throughout the movie, Audrey Hepburn can be seen wearing a pair of oversized sunglasses in cat eye style. Or how about the classic aviator glasses made famous by Tom Cruise in Top Gun? Finally, notorious pirate actor Johnny Depp has brought classic panto/P3 style glasses back in fashion.
Virtually try on the Best American eyewear
With so many good reasons, here's our selection of the Best American Eyewear Brands. Of course, you can use our virtual stylist called "Match My Style" to get individual style advice. Plus, you can see the frames by using our Virtual Try-On tool. Just try it out! Before we dive deep into the best American eyewear brands, we want to make sure you understand the FAVR platform. Basically, it puts all the best glasses and sunglasses at your fingertips.
The Best American Eyewear Brands – and more
Are you finding what you're looking for? Please know that you can always narrow down your search by using filters. For instance, you can target your search by brand (e.g. "Barton Perreira"), a style (e.g. "Panto") or colorway (e.g. "gold"). By applying these filters, you can get closer to finding exactly the eyewear you want. And please rest assured: the FAVR platform specializes in showing only the best eyewear from across the world. Including the United States. Therefore, you can never go wrong.
Here's the best part: You can see directly how a specific frame fits on your face. How? By using our Virtual Try-On tool, a real FAVR special! Finally, here are the best American eyewear brands.
And here we go: The best 18 American Eyewear Brands at a glance.
AHLEM – Designed in America, inspired by Paris
Let's dive in with a top American eyewear brand! Upcoming eyewear powerhouse AHLEM is the brainchild of Paris native Ahlem Manai-Platt. The designer likes to add exquisite details to classic shapes, for instance geometrically shaped nose bridges. She is known especially for her refined finishes and stylish gold frames.
Quality also presents a priority for AHLEM: The brand manufactures all sunglass and optical styles by hand in Oyonnax, France. The brand only uses vintage Mazzucchelli acetate and high-quality metals. Additionally, sustainability and ethical standards play an important role.
With its inspiring and beautiful eyewear, the young label is on the right track: The fan base already includes the likes of Beyoncé, Kate Moss, Selena Gomez, and Kendall Jenner. Plus, AHLEM continues to grow quickly, so find it at your local optician. Definitely one of the American eyewear brands to keep an eye on right now.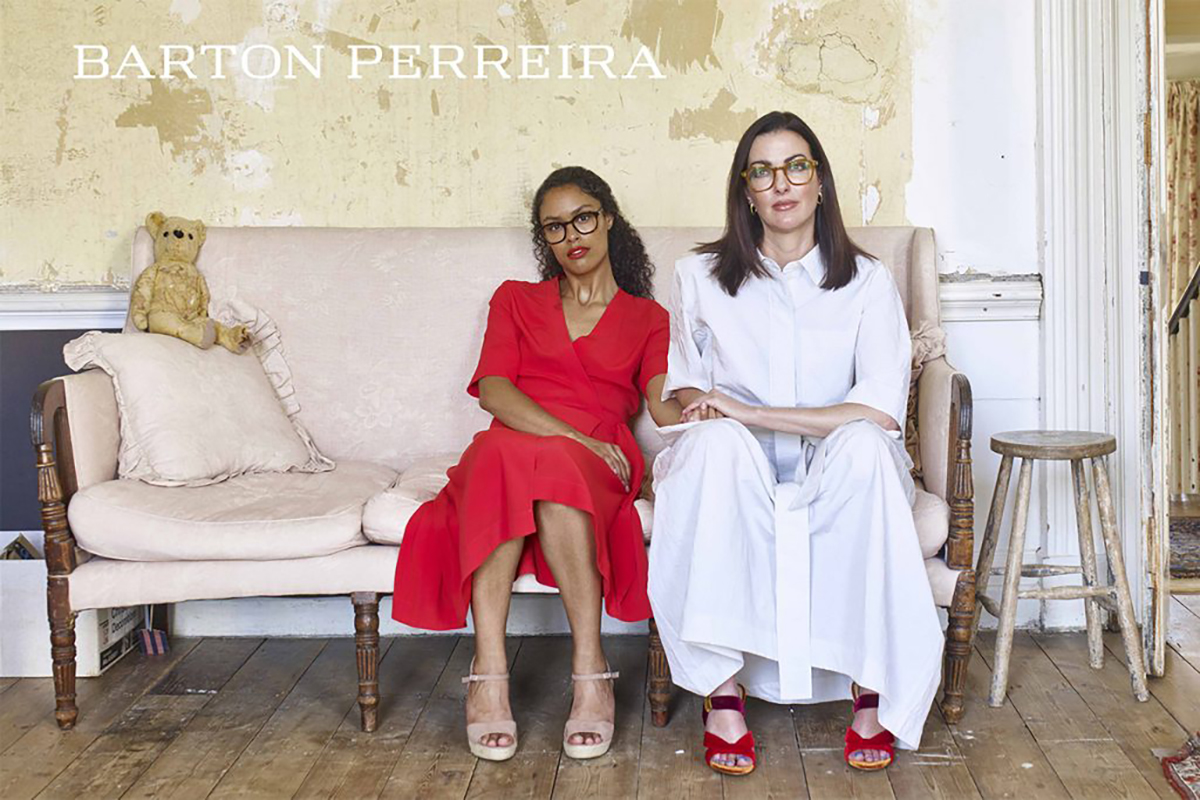 The name says it all: BARTON PERREIRA started in 2007. The founders are eyewear industry icons Bill Barton and Patty Perreira. Since then, their aesthetic sensibilities and penchant for quality have garnered fans across the globe. The secret? California luxury, precise craftsmanship, and high-end materials blend together in innovative designs.
Based in Los Angeles, the independent eyewear brand is forever rooted in quintessential California lifestyle. BARTON PERREIRA's optical and sunglass shapes present riffs on proven classics. Always with a sense of refinement and attention to detail. Frequent collaborations with artists keep things fresh. Meanwhile, the focus on excellence remains unchanged. Without a doubt one of the most stylish and sophisticated American eyewear brands.
---
Try on glasses from Barton Perreira online here:
>>> Click here for more Barton Perreira glasses
---
Bevel – Eyewear style on another level
BEVEL represents living proof that eyewear does not need to chase trends to be successful. The independent label began in 1999. The founders are Richard Mewha and Rick Nelson. Beforehand, the two had become friends while working at the Optical Shop of Aspen (OSA). So it made sense to join together and create a new optical brand. The goal: Making eyewear an essential part of personal style. Like fashion and cosmetics.
Over the years, BEVEL has built a global following with a classic and minimalist aesthetic. Plus, truly high-quality materials with Japanese production. The brand's stylish optical collections focus on acetate and titanium. Shapes range from flattering pantos, to bold square shapes to gorgeous cat eyes. All true to the brand philosophy: If everyone wore BEVEL frames, the world would definitely be a better-looking place in more ways than one.
Blake Kuhwahara – Artful but wearable eyewear styles
BLAKE KUHWAHARA launched his eponymous range of sunglasses and optical frames in Fall 2014. The designer started his own American eyewear brand to realize his own vision of optical design. The brand's signature style consists of an inner silhouette encased in an unexpectedly fresh outer shape. Behind the scenes, this look requires elaborate manufacturing techniques and manual processes.
Eyewear from BLAKE KUHWAHARA surprises and amazes with a sculpted, three-dimensional look. It lends new life to the most classic shapes. Meanwhile, it makes a bold statement. The designer has been recognized with numerous awards. Standouts include "Best of Category in Consumer Products" from I.D. magazine and "Silmo d'Or – Prix Special Journalists de Mode" in France. By the way, Kuhwahara has a doctorate of optometry from UC Berkeley. So you know you're in good hands.
Chrome Hearts – Against the grain
Attitude meets uncompromising commitment to style. CHROME HEARTS began in 1988. That's when motorcycle enthusiast Richard Stark and his wife Laurie Lynn Stark founded the brand. The American lifestyle brand is widely known for its jewelry. It blends uniquely treated sterling silver and a chunky gothic look. As a result, the brand has already clinched the CFDA Accessory Designer of the Year Award.
CHROME HEARTS also infuse this unique DNA into eyewear: Bold front sections meet finely ornamented metal components. The resulting look is eye catching and against the grain. Looking closer reveals delicate details such as engravings and refined material combinations. For all those living life at full speed, these are your glasses.
Dita – Leaders in style and innovation
Founded in 1995, DITA has set out to challenge conventions in the eyewear industry. The DITA brand rests on three principles: Design that finds beauty in purpose. Craftsmanship that celebrates the unseen. Culture that transcends convention. As a true leader in optical innovation, the brand serves stylish sunglasses and prescription models. Both for men and women. Always ready to surprise and push the envelope with details and premium accents.
Over the years, the American eyewear brand has made a name for itself through countless innovative achievements. Standouts include ultra-thin acetate frames in the DITA-FEATHERLIGHT collection. Also the unique stainless-steel metal core lamination technique called DITA-LAMINATE. Plus, the boundary-pushing DITA-SERIES collection. Watch closely as DITA continues to offer a vision for the future as memorable as its past.
GLCO – Essential California Cool
Garrett Leight California Optical (GLCO) was founded in Venice Beach in 2010. The top eyewear designer behind the brand, Garrett Leight, hails from a family with strong eyewear history. His own namesake brand specializes in iconic eyewear inspired by the California lifestyle. All GLCO frames are designed at the brand's studio in the Arts District of Downtown Los Angeles.
GLCO uses only the most exclusive, highest quality materials. These materials come from the best suppliers in the industry. The resulting collections combine perfect craftsmanship with timeless aesthetics. Highlights include gorgeous optical pantos, as well as luxe sunglasses for men and women. Each design bears the VC/CA 90291 stamp as a reminder of GLCO's Venice roots.
L.a. Eyeworks – Revolutionary eyewear style
Meet one of the most influential American eyewear brands of all time: L.A. EYEWORKS has come a long way from beginnings in Los Angeles to a global phenomenon. The brand was started in a single store by Barbara McReynolds and Gai Gherardi on Melrose Avenue in Los Angeles. It happened in the year 1979, when the eyewear industry was ready for a revolution. Back then, the two designers brought a new edge with designs that are equally bold and daring.
Since then, L.A. EYEWORKS has shaken up the optical business by designing acetate and metal frames for discerning customers. The style remains recognizable and uncompromising. Another constant in brand DNA is the photo campaign captured by photographer Greg Gorman. Since 1981, more than 200 celebrities have appeared under the motto: A face is like a work of art. It deserves a great frame. What's next for L.A. EYEWORKS? Even after more than 40 years in the business, the mission remains the same: to encourage people to stop looking and to start seeing.
It's all about the finer things in life for Leisure Society. And of course, that includes eyewear. Designer Shane Baum started the brand with a clear vision: crafting the world's finest eyewear one could possibly find. This credo leads to a focus on equally chic and timeless designs. These frames are brought to life using state of the art technology combined with handmade construction techniques.
Like very few American eyewear brands, LEISURE SOCIETY emphasizes luxe materials. The optical collection includes titanium frames, 12, 18, & 24k gold plating, diamonds, and buffalo horn. Meanwhile, the sunglasses feature quality lenses. Features include polarizing CR-39 lenses available with Anti-reflective UGR12, Diamond Cast, and hydrophobic coating. Join the LEISURE SOCIETY – every hour is a happy hour.
---
Try on glasses from Leisure Society online here:

>>> Click here for more Leisure Society glasses
---
Founded in 1990 in New York City, MODO is at home across the world. As one of the most cosmopolitan eyewear brands, it operates offices in three cities: NYC, Stockholm and Milan. As a result, MODO sunglasses and optical frames reflect the zeitgeist of these places. Plus, the brand's design DNA is a symbiosis between form and function.
For the past three decades, MODO has forged a minimalist style that is recognizable. A style that garners an international fan base, including many celebrities. The fact that MODO eyewear is so well-known is special for another reason: None of the glasses feature a visible logo! Instead, MODO relies on innovative materials and technically advanced production. All with good karma, because the brand supports charities such as 'buy a frame, help a child see'.
---
Try on glasses from Modo online here:
>>> Click here for more Modo glasses
---
New York City. The Big Apple. Also known as the home of American eyewear brand MOSCOT. Over 100 years ago, the brand started in a single optical shop in downtown. The founder was optician Hyman Moscot, who earlier sold eyewear from a pushcart on Manhattan's Lower East Side. Today, MOSCOT still commands unique eyewear expertise and unparalleled craftsmanship. These are the foundation to create its timeless eyewear.
The brand is now in its 5th generation under the direction of design director Zack Moscot. Recognized as a global fashion brand, MOSCOT cultivates an archive of heritage styles. These are constantly updated and refined to meet the spirit of the times. One thing remains unchanged: Excellent craftsmanship is still the calling card of every single frame that carries the name MOSCOT. Designed and prototyped in New York City, all MOSCOT eyewear is is handmade from the best materials.
Ovvo – Virtually indestructible eyewear
Ever accidentally sit on a pair of glasses? That's no longer a problem with OVVO eyewear. The new American eyewear brand wants to create the most durable, lightweight frames on earth. At first, the team could not find the right metal material. So OVVO developed its own: Each frame consists of a composite of titanium and military grade surgical steel. The metal blend contains 70% steel and 30% titanium. This hypoallergenic metal offers remarkable durability, lightness, flex memory, and heat resistance.
For an extra edge, OVVO implements Diamond-Like Carbon nanotechnology (DLC). All metal frames contain a layer of DLC coating for extra robustness. Also built with strength in mind, the patented screwless hinges feature a simple design. It makes them reliable and durable. The hinges can withstand 90 pounds of pulling force through 205 years of usage. Despite all that tech, OVVO frames offer ultra-light weight at a mere 0.6 of an ounce. Nevertheless, the optical and sunglass frames make strong stylistic statements in various shapes and colors.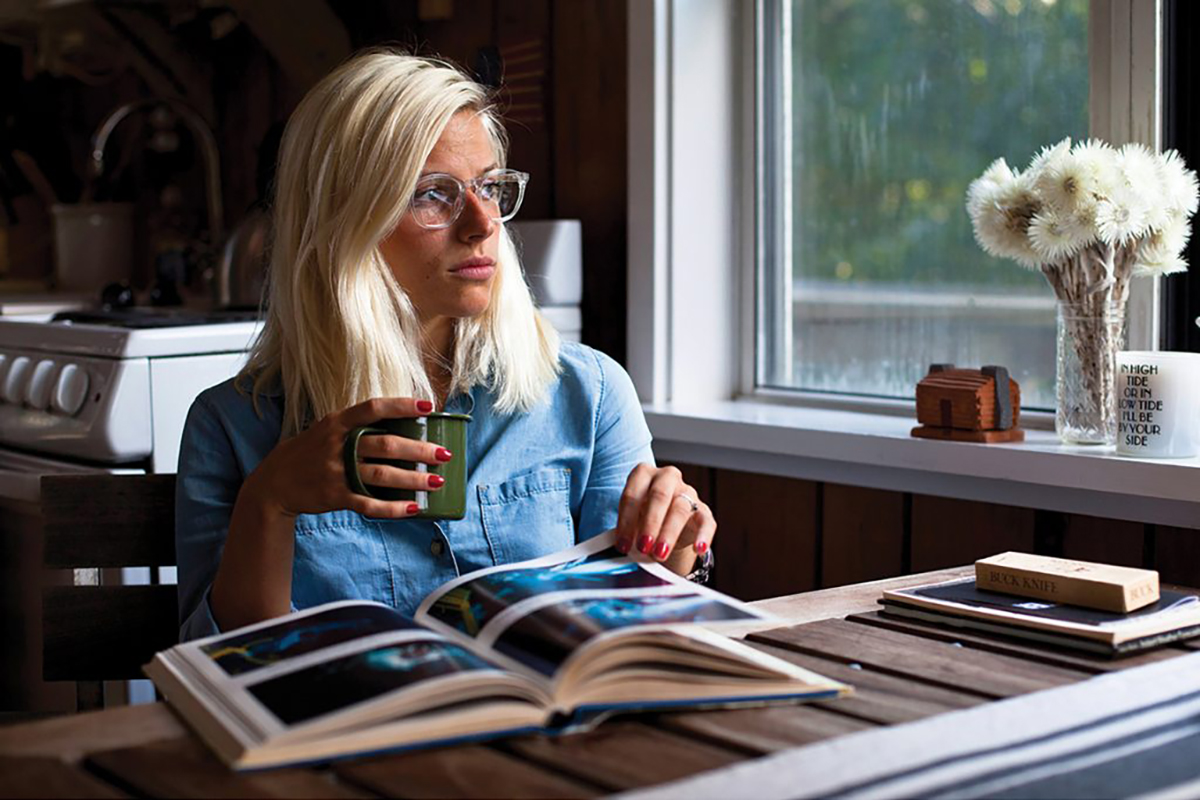 Inspired by the classics. Handmade for today. This is the philosophy behind California-based eyewear brand RAEN. With a strong connection to nature and California board sports culture, RAEN set out to do things their own way. The brand relies on premium materials to create carefully crafted eyewear. At the same time, RAEN sunglasses are attainable, on trend and fashion driven.
Every pair of RAEN frames are designed in the brand's California design studio. Then made to the team's exact original vision. All of the company's acetate is a unique and custom combination. Every frame undergoes hand-guided cutting, followed by hand-polishing to finish. And the lenses? Manufactured by Carl Zeiss Vision, completing the process that makes every single frame RAEN. If you like luxurious metals, distinctive acetates, and vibrant lenses, RAEN has your perfect summer glasses.
---
Try on glasses from Raen online here:
>>> Click here for more Raen glasses
---
Robert Marc NYC – Big City style and spirit
Very few American eyewear brands represented the spirit of New York like ROBERT MARC NYC. The brand started in 1981 in a small optical shop on Columbus Avenue. After supporting customers with eyewear expertise for almost two decades, it was time for the next step. ROBERT MARC NYC set out as a full-fledged optical brand in 1999. The brand philosophy: To design and discover New York's most wanted eyewear.
Since then, the label's optical and sunglass styles have been influenced by New York City and classic French savoir-faire. ROBERT MARC NYC frames are known worldwide for their signature blend of style and fit. The team takes pride in every detail of RMNYC frames. Overall, the goal is to harmonize premium materials and unique color combinations to create timeless eyewear. The true mark of ROBERT MARC NYC frames is the hinge. Inspired by historical design and construction, the hinge blends function and fashion in every single frame.
SALT. represents quintessential California style in the eyewear business. Their aesthetic is inspired by art, nature, design, architecture and cinema. Plus, classic eyewear shapes that are brought into current collections with an eye for refinement. This also means an emphasis on exclusive materials such as quality acetate and Japanese titanium. Collaborations with brands, artists and designers help keeping things fresh and moving forward.
SALT. optical frames flatter male and female faces. Shapes include timeless pantos, elegant round frames and square lenses with a twist. In sunglasses, SALT. plays with stylistic accents such as keyhole bridges in playful shapes including pretty cat eyes. The common denominator is always quality: every pair of SALT. glasses undergoes a 130-step process to meet the highest demands. And did we mention they look incredibly cool?
---
Try on glasses from Salt. online here:

>>> Click here for more Salt. glasses
---
Sama – Exclusive luxury fashion eyewear
No other American eyewear brand represents luxury like SAMA. The brainchild of designer Sheila Vanc has been setting trends over the last twenty years. The luxury label first introduced 100% pure titanium to the optical industry. Even today, SAMA Eyewear uses only the finest materials. These include Japanese zyl acetate, titanium, precious metals, precious and semi-precious gems, Swarovski crystals, and nickel-free plating. The lenses are equally premium. And to achieve the highest level of quality, the brand finishes each pair in Japan.
If that sounds impressive, just have a look at SAMA's list of fans: Tom Cruise, Reese Witherspoon, Mickey Rourke, Gary Oldman, Colin Farrell, Greg Kinnear, Sir Elton John, Cher, Steven Tyler, and the Royal Family of Monaco. What's more, SAMA eyewear is featured in blockbusters including Iron Man 2, The Book of Eli, Miami Vice, Mission: Impossible: III, and Terminator 3: Rise of the Machines. Ready to join this legacy? Find SAMA at your local optician on FAVR.
Selima Optique – Uniquely New York, at home in the world
Based in New York City, designer Selima Salaun channels a multitude of influences into eyewear. SELIMA OPTIQUE creates a fusion of Salaun's French sensibility and the creativity that's uniquely New York. The designer also commands a unique professional background: Selima is an opticienne-lunetiere. This means both a licensed optician and an optometrist. She studied and honed her craft in Paris.
On the business side, SELIMA OPTIQUE operates eight boutiques in Paris, New York and LA. She releases her edgy, innovative spectacles and sun wear under the SELIMA OPTIQUE brand. These designs enjoy a loyal following. Selima has designed custom frames for VIPs such as Bono, Liv Tyler and Madonna. The secret? A unique eye for color and elegant shapes crafted from luxurious acetate and metal components. One of the best American eyewear brands? For sure.
Jacques Marie Mage – highly limited luxury eyewear
When Jacques Marie Mage established his brand in 2015, he wanted to introduce the concept of scarcity to high-end eyewear. After all, scarce things are the foundation of luxury. Nothing else demonstrates value as good as when something is scarce. For that reason, Jacques Marie Mage produces eyewear models in extremely small quantities. Sometimes they produce just 50 pairs. Naturally, the price tag has adjusted to the strategy. What does that mean? Jacques Marie Mage glasses and sunglasses aren't cheap. Why? JMM only uses the best materials available. The acetate, for instance, is a few millimeters thicker than that of other brands. This physicality is important and attracts many fans.
Artisanal Eyewear from JMM
Eyewear by Jacques Marie Mage combines classic and historic motifs with new production methods, precious materials and sustainability. The founder is a French expat who is now living in Los Angeles. He focuses on limited edition designer glasses and sunglasses. All of his products are handcrafted and fit the description "artisanal eyewear". The luxury eyewear designer draws on many inspirations and does not limit his references to any particular point in time and space.
Eyewear Design References
As opposed to other, more mainstream-oriented brands, Jacques Marie Mage considers every small detail. This can be the scent of the glasses, the packaging and of course every small detail of the products. It all begins when you open the red satin box which the brand uses to ship the frames. Furthermore, the designs reference an eclectic array of influences. They can be neoclassical, which makes sense considering that the man behind the brand collects Napoleonic military regalia. There's also a strong element of romanticism involved.
More than Eyewear Fashion
Jacques Marie Mage is very conscious in designing and producing great products. That also holds true for the underlying values. The independent eyewear brand cares about the conservation of national parks and about protecting wildlife. And it acts upon these principles. Every year, JMM donates a percentage of annual revenue to projects such as Yellowstone Forever or Living with Wolves. In short, Jacques Marie Mage supports the health of America's wildlife and wilderness.
Scarcity as a Principle for Eyewear
All products by Jacques Marie Mage are scarce. Nothing is simply mass-produced for a mainstream audience. For instance, the frames come with a hand-numbered card that invites the consumer to assume the character of the icon who inspired the design of the glasses. And since glasses by Jacques Marie Mage are in high demand, scarcity also means that for all silhouettes that are sold out, he is introducing 14 new ones.
Celebrity Endorsements for Jacques Marie Mage
The brand Jacques Marie Mage is endorsed by lots of celebrities, especially from the USA, who love the exclusive touch of these luxury products. Besides actress Kate Bosworth who officially collaborates with the brand, famous people like basketball star LeBron James or actor Jeff Goldblum often wear glasses and sunglasses by Jacques Marie Mage.
Jacques Marie Mage is one of the top independent eyewear brands. If you want to find out about stores or opticians that carry the sought-after label, please check out our store-locator widget in our Jacques Marie Mage brand profile. We offer lists of opticians for any location including cities like Zurich, Paris, New York, Munich, Montreal, Los Angeles or Hamburg.