The Best Wood Eyewear Brands
The best wood eyewear brands are the top choice for people who are into natural materials. Wood is not only sustainable but has many more qualities that make it great as a material for eyeglasses and sunglasses. Besides, wood eyewear makes you stand out from the crowd. But what are the magic qualities of wood when applied in eyewear? The natural and sustainable material offers a soft and comfortable touch while creating its own distinct look. Wooden eyewear is unique, special and fashionable. It's no coincidence that lots of independent eyewear brands focus on the great material.
The best eyewear brands love wood
Premium eyewear brands often focus on special materials because they want to make optical glasses and sunglasses that last longer. They car about material because their products are appreciated by true eyewear fans who are into quality and a great look. This is why wood is a natural choice for these brands. And it's very similar to eyewear made from horn or eyewear made from titanium.
Wood eyewear frames are different
Wooden frames are fashionable because they are naturally thicker and bolder. This is an important aspect because it also means eyewear made from wood looks and feels different. Why is that? Because of the properties of wood as a material. Add to that a sense of warmth that is hardly to be found in other materials. Each of it has its own qualities and aspects. 3D-printed glasses, for instance, are comfortable too – but in a different way.
.
---
.
Try on the latest wooden glasses online here:

>>> Click here for more wooden glasses

>>> Click here for more wooden sunglasses
---
.
Over the past few years, wood has captured the imagination of a growing number of eyewear designers and premium eyewear manufacturers. In this article, we're introducing the entire spectrum of wood in the eyewear universe, including how to best wear wooden glasses from the best independent designer brands in the world.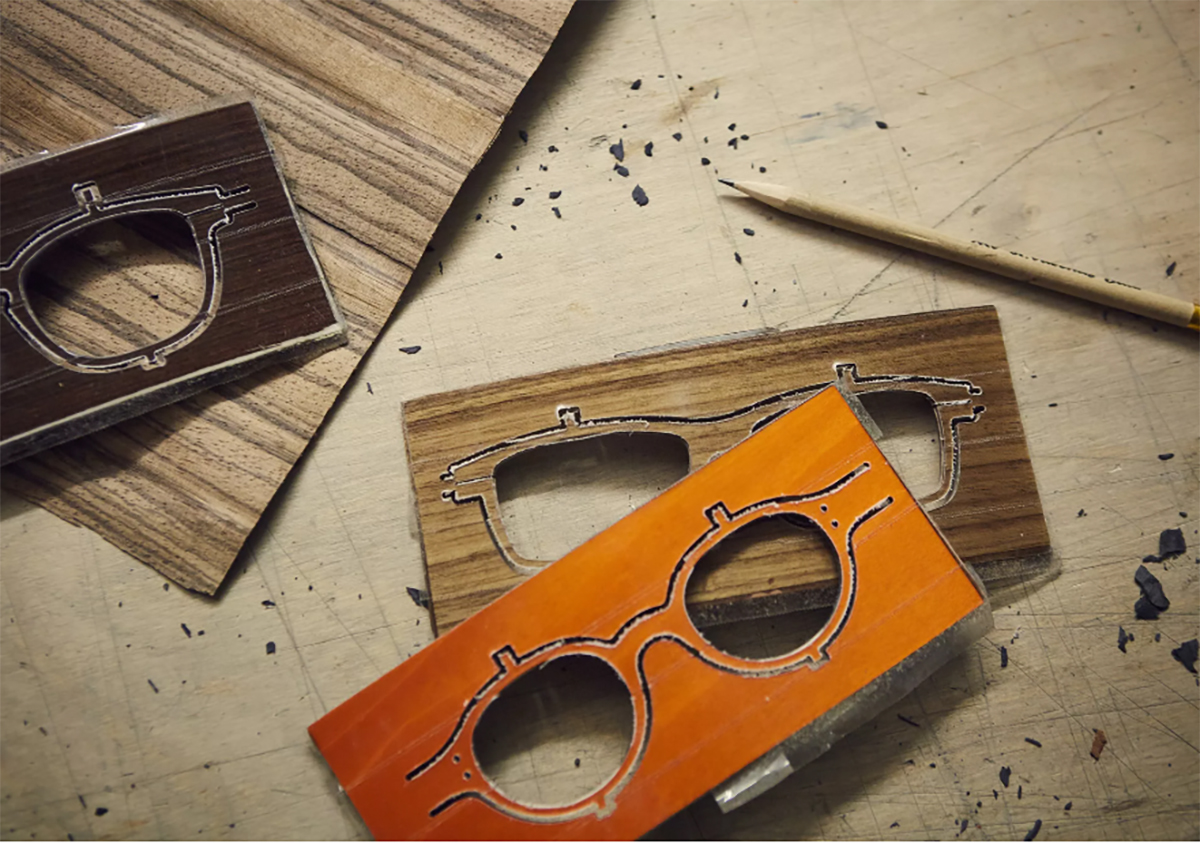 The qualities of wood eyewear
Wood is natural and unique
Wood means warmth. It radiates a warm feeling onto the wearers face, softens facial features and compliments practically any skin tone. Similar to horn frames, a pair of wood spectacles is always unique due to the distinct grain and surface structures. So buying a pair of wood spectacles is an investment in a one-of-a-kind accessory! It's all about the surface patterns, color variations, and slight nuances of this sustainable natural material that creates a unique look. If individuality is what you're looking for, then wood is the 'natural' answer.
Wood eyewear is light and robust
Some wearers have been hesitant to try wood frames. The reason is fear they may be less robust than titanium glasses or carbon frames. But rest assured: Wood can hold up to the test of time by virtue of being constructed from premium wood veneers. This means laminated wood sheets composed of several layers for added strength. The construction technique makes wood frames uniquely robust and resilient. It also avoids a natural flaw of wood: The material tends to 'work' when exposed to different temperatures. So crafting a frame from single blocks of wood inevitably would lead to tears and fractures in the material. That's why veneers are the way to go. It also adds a distinct aesthetic to the mix.
Wood looks great and feels soft
In the manufacturing of wood frames, popular choices include birch, maple, cherry tree or walnut. Naturally, the choice of raw materials impacts the resulting color variations: Maple frames tend to be light brown. Cherry or walnut trees create a strong red-brown hue in wooden frames. Overall, wood eyewear combines lots of positive factors into a sleek, sustainable package: They blend aesthetics and soft feel with manual craftsmanship and unique comfort of wear. What's more, wood frames tend to be incredibly lightweight for their sizes. So they rest on the wearer's face unobtrusively. They are at the opposite spectrum from 3D-printed glasses – similar but very different.
Wood is about craftsmanship
When it comes to turning wood into eyewear, a combination of patience and expertise is paramount. After all, wood is a living material that can be hard to tame at times. Most premium brands aim to achieve a balance between traditional craftsmanship and high technology in order to offer relevant products.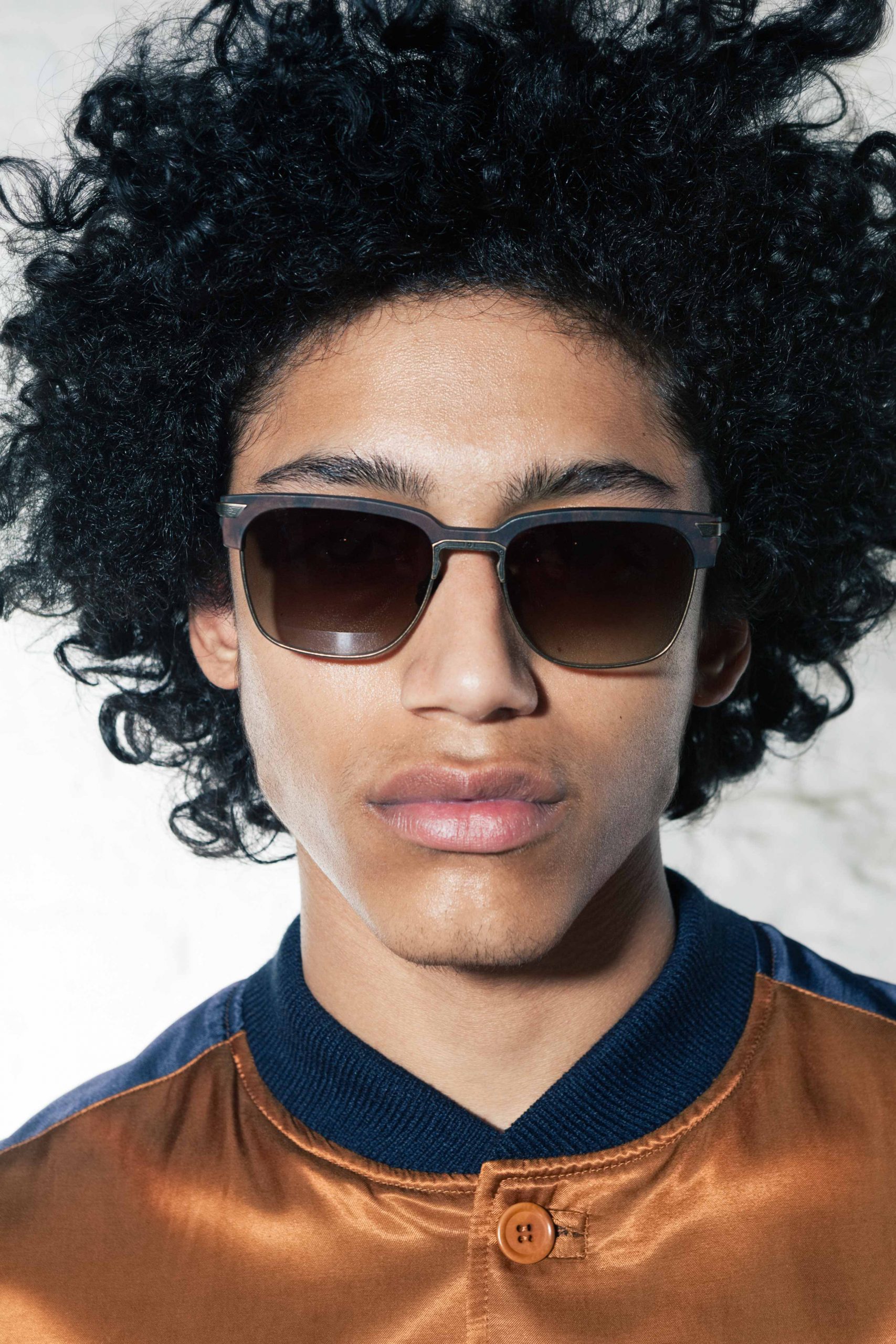 In the mountain region of Tyrol, a phalanx of expert wood eyewear manufacturers has emerged to push the boundaries of the genre. Tyrol-based company Rolf Spectacles registered a patent for a unique lens-fitting process for wooden eyewear frames. This is achieved by a special thread that connects the lenses to the specifically machined openings in the wooden frame.
Although wood itself tends to be a rather inexpensive material, finished wooden frames tend to range in the upper price segment. This is due to the fact that the manufacturing process is rather hands-on and resource intensive. Then again, every single wooden frame is one-of-a-kind and the result of a sequence of meticulous manual steps.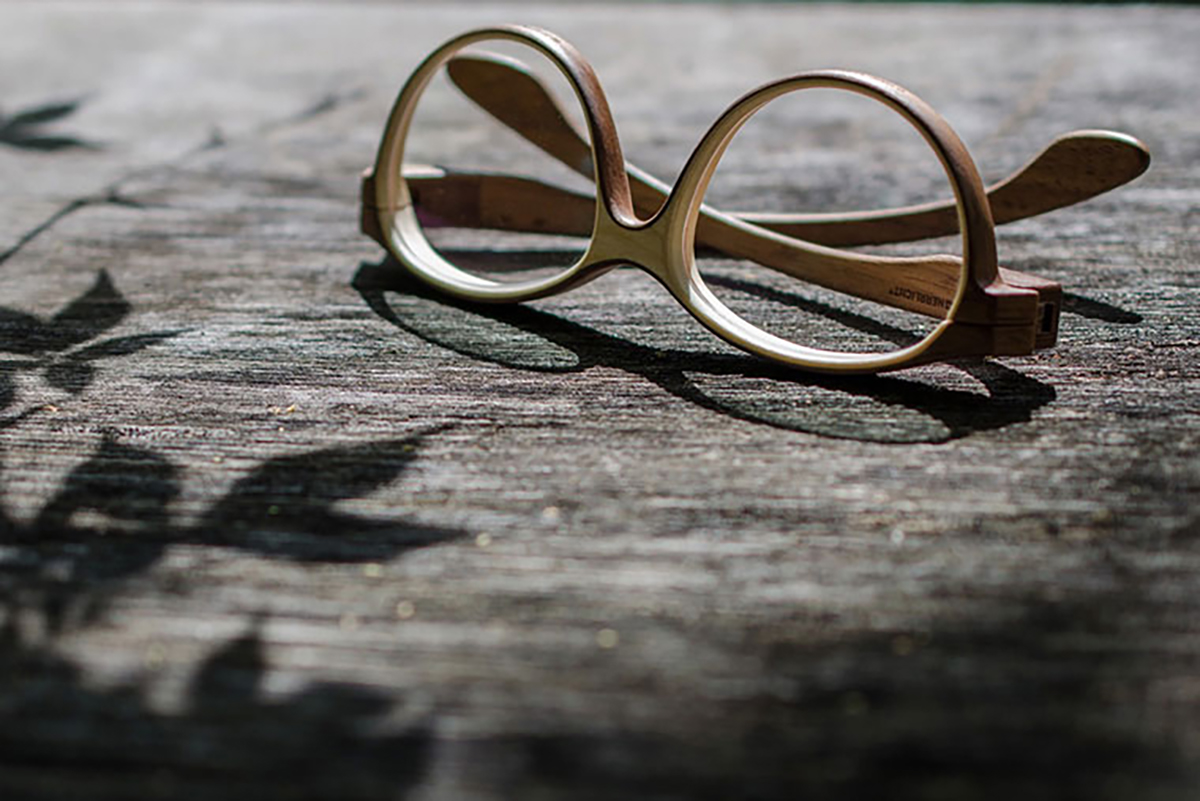 Our advice: Wearers looking for that exclusive touch can aim for a two-tone frame crafted from two different materials. In combination of two natural materials (for instance two types of wood, wood/titanium or wood/stone), designers can unfold a wide spectrum of aesthetic nuances and contrasts.
Last but not least: Wooden frames are truly positive products as they are 100 percent sourced from natural materials. Look good and feel good as well.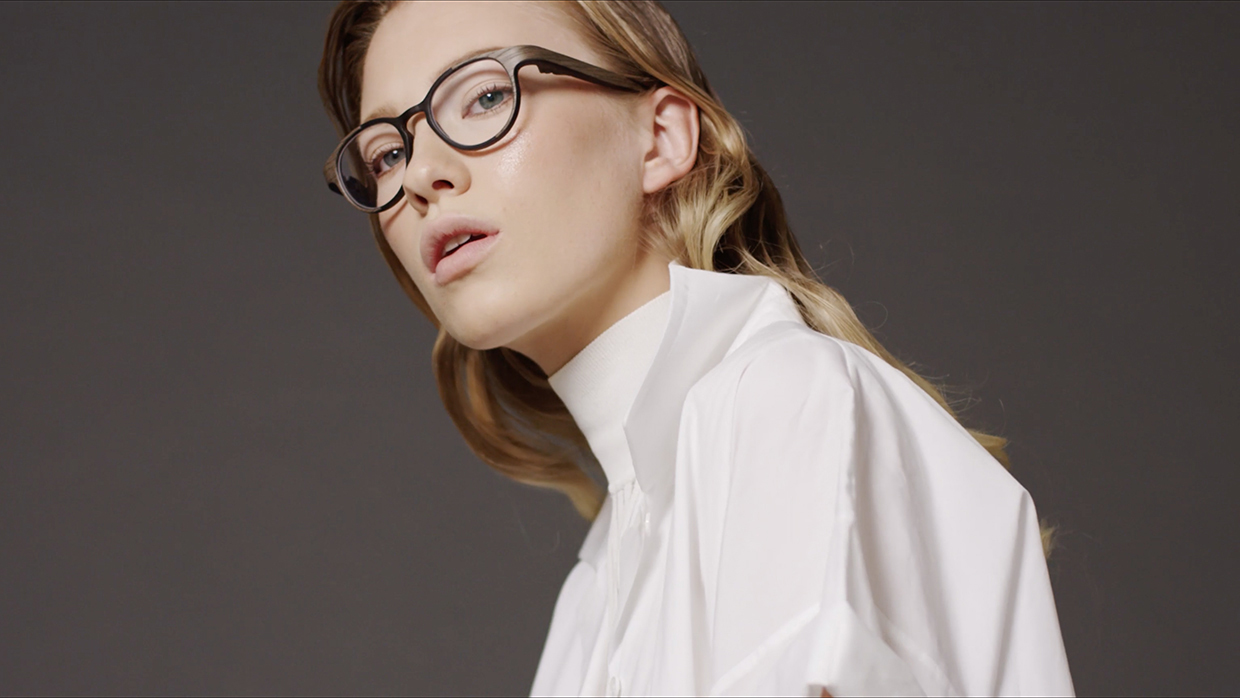 The best brands for wooden eyewear
Only a select few independent eyewear brands have taken it upon themselves to transform the natural material from the world's forests into stylish frames. We looked around to compile an exclusive selection of the coolest styles, available in our Virtual Try-On tool to see test live on your own face. Here's a list of the most important manufacturers:
Premium opticians
with a solid selection of wood  eyewear
Virtual is fine, but hey, wood is all about nature! Want to try on wood frames at a quality optical store? Click here to see the leading opticians near you or in the city of your choice, replete with all premium brands in their selection.
Check out other high-quality materials
FAVR is not only limited to wooden eyewear. A wide range of other materials offer significant advantages in the design and manufacturing of premium eyewear. Get inspired and find out more before deciding on the best material for your needs. Helpful stories include:
---
Photography, header photo:
photo LINDA BOESE
styling MARCELLA VERWEYEN at KATHRIN HOHBERG
hair & make-up SOFA OBLINA
model ALEXANDER at PMA HAMBURG
location ROSTOCK