The Best Opticians in Germany
The best opticians in Germany? Sure! From the Northern charms of Hamburg to the Capital of Cool that is Berlin. From the Cathedral City of Cologne to the European banking capital Frankfurt. All the way to the Southern metropolis of Stuttgart and Munich's Oktoberfest hospitality: Every single region in Germany has its unique attractions. But they all have one thing in common. They are home to some of the world's experts in designer eyewear – the best opticians in Germany.
.
---
.
Click here to find the best opticians in Germany:

---
.
For all of our readers, we have scoped out the country's most eminent optical stores. In order to select the best, we've compiled a full list of the best opticians in Germany. Right here on FAVR. This will help you find the best optical frames and sunglasses at the optician of your choice. The best designer eyewear from top premium eyewear labels. These include eyewear fashion brands from all over the world, including the best eyewear labels from Japan, France, America or Germany.
The best opticians in Germany here are top of their class. Because they not only boast an unmatched level of expertise, knowledge and service, but also high-end designer eyewear. They also have good taste and a focus on exclusive premium products. This reflects in modern interior store designs, best brand portfolios and state-of-the-art online channels.
So with this in mind, you can go ahead and find your dream eyeglasses and sunglasses on FAVR, perhaps with help from our virtual stylist called "Match My Style". Then use our Virtual Try-On tool to see your favorite frames on your face. And finally, find the closest store among The Best Opticians in Germany to buy a pair.
DRESDEN
Hauptstrasse 31/33 | 01097 Dresden
+49 (0) 351.6567766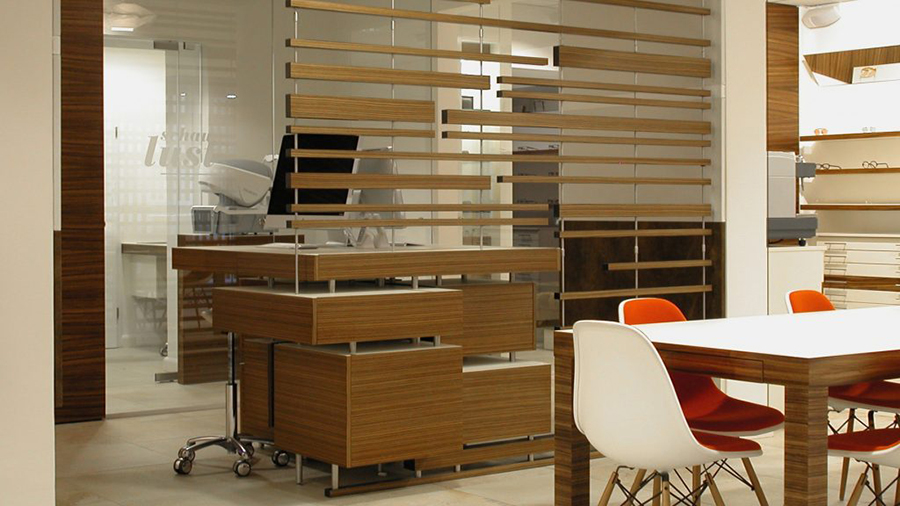 Across the entire Saxony region, this shop run by optician Claudia Riedel is hands-down the best. For over 20 years, Riedel has been heading Schaulust with a unique kind of spirit, motivation, and energy. Additionally, the large number of high-end brands in the line-up also makes a difference. Their website also cultivates its own aesthetic: large-scale, expressive photographs create an artful contrast to the color pops in the background, making the website a real eye catcher. Schaulust definitely makes the list for the best opticians in Germany.
Top Brands: GIGI STUDIOS, GÖTTI, HOFFMANN NATURAL EYEWEAR, IC! BERLIN, KLENZE & BAUM, MASUNAGA, MODO, REIZ, ROBERT LA ROCHE, AHLEM, GLCO, HAFFMANS & NEUMEISTER, JAQUES MARIE MAGE, LINDBERG … and more.
A
Virtual Try-On @ Schaulust – Try on premium glasses online.
ROSTOCK
Kröpeliner Strasse 26-28 | 18055 Rostock
+49 (0) 381.26381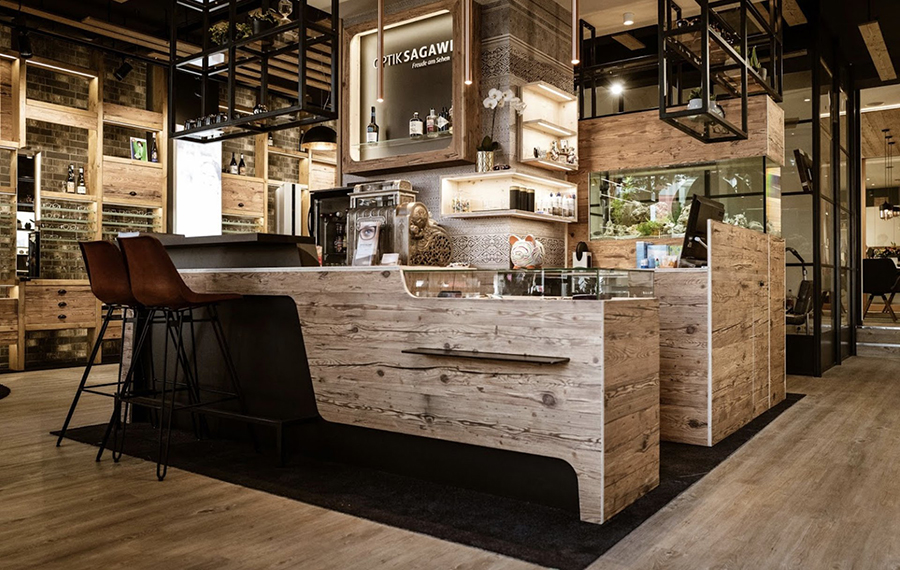 In search of a family-owned business that's still maintained by its owners? Look no further than Optik Sagawe, suppliers of high-end optical goods in the city of Rostock for many decades now. As one of the leading stores in the North-West of Germany, the shop is operated by Matthias and Katrin Sagawe, who are always in search of the latest trends in the optical trade. Walking into the store, customers are greeted by an upscale wood interior, plus a sizeable team boasting a unique level of expertise. What more could you want? Clearly one of the Best Opticians in Germany.
Top Brands: GIGI STUDIOS, GÖTTI, THEO, … and more.
specs.berlin
BERLIN
Alte Schönhauser Strasse 39 | 10119 Berlin
+49 (0) 30.4005 4567
When it comes to finding the most of-the-moment optician in the German Capital of Cool, Berlin, the name specs.berlin is bound to come into play. For more than ten years, Class Witzel has been operating two store locations in the heart of the city that count among the must-list for every eyewear aficionado visiting the city. Witzel is a co-founder of 'The German Collective' eyewear union. And he greets visitors with a finely curated selection of independent and premium brands.
What's more, the equally modern and purist website is a textbook case of on-trend style. But then again, nothing beats one of the specs.berlin retail stores in person. After all, their unique style has already won the iF DESIGN AWARD in the category Corporate Architecture — Shop/Showroom. They've even been nominated for the German government's coveted design award. So what are you waiting for? Get there while you can. The best opticians in Germany? Specs.berlin is one of them.
BERLIN
Bleibtreustrasse 27 | 10707 Berlin
+49 (0) 30.88 55 24 24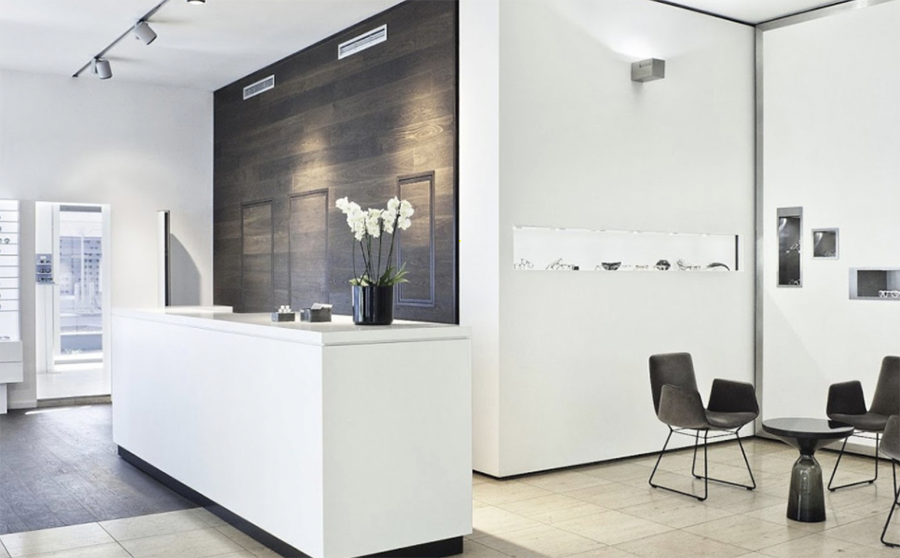 Looking for amazing brands? For labels like Andy Wolf, Barton Perreira, Cutler & Gross or Tom Ford? Well, just ask Andreas Huber and Christian Polomski at 'Die Sehmänner' store (German: 'The Seeing Men'). The modern, open store in the German capital presents the finest eyewear labels in an upscale ambiance. The interior design dazzles with a combination of white surfaces and natural materials. And for anyone who can't make the trip to Berlin, the online store also looks incredible and showcases some of the most coveted eyewear on the market right now.
LÜBECK
Wahmstrasse 29 | 23552 Lübeck
+49 (0) 451.77655
Wolfgang Reckzeh may be one of the most knowledgeable opticians in the entire country and a real multi-hyphenate talent. He also co-directs a family business that employs a strong crew full of individualists and eyewear craftsmen. The portfolio boasts a humungous selection of the world's most premium eyewear labels. And if you still can't find that perfect pair of spectacles, how about giving the in-house label colibriS a shot? All eyewear is designed by the dad, while the daughter runs the business. Eyewear – it's all in the family at Colibri in Lubeck.
Top Brands:  BARTON PERREIRA, FACE À FACE, FRANK CUSTOM, GÖTTI, HOFFMANN NATURAL EYEWEAR, IC! BERLIN, LUNOR, SILHOUETTE, THEO, ANDY WOLF, LINDBERG, ØRGREEN … and more.
KIEL
Alter Markt 10 | 24103 Kiel
+49 (0) 431.91263
The list of the Best Opticians in Germany would not be complete without this one! Based on the Northern German state capital of Kiel, the Blickpunkt store is an eyewear institution. Proprietors Peter Hinz and Ernst Wüstenberg pay close attention to eyewear manufacturers with a dose of individualism. Standouts include the optical range designed by California eyewear prodigy Garrett Leight, as well as the Nordic creations by Hamburg Eyewear. While the store design itself is on the clean side of the spectrum, the website encourages exploration with a colorful mix of in-house photo shoots featuring eyewear from cool brands.
HAMBURG
Bleichenbrücke 1-7 | 20354 Hamburg
+49 (0) 40.97071987
Some opticians just get it right. Case in point: The Bellevue store operated by Karin Stehr in the city of Hamburg. Great store interior meats a hand-picked brand portfolio, expert service and fashion-forward store staff. Karin is a personality in the eyewear universe and well-acquainted with all the independent designers in the global optical business. She has a penchant for choosing the kind of frames that bridge the gap between aesthetic design and functionality with a sense of style. The website design is also on the cutting edge, showcasing premium brands with large-scale images and on-brand designs. Then again, better to drop by Bellevue in person. Tell them FAVR sent you!
HAMBURG
Schulterblatt 3 | 20357 Hamburg
+49 (0) 40.41304740
OMG is widely known as short for "Oh my gosh". But in the city of Hamburg, the acronym represents the hip eyewear store known as ONE MILLION GLASSES. The two brothers behind the store, Mark and Hauke Peters, are deeply entrenched in the eyewear industry. They are co-founders of 'The German Collective' eyewear union. And also business insiders and trend scouts with a sure hand for what's hot and what's next. Both live their passion for eyewear and style on a daily basis. Currently, they're strongly trending toward sustainability and independent labels. Therefore, a visit to their digital shop or two retail spaces is always worth the trip to find one million reasons to be inspired by eyewear.
OLDENBURG
Lange Strasse 53 (Ecke Bergstrasse) | 26122 Oldenburg
+49 (0) 441.9987866

Everything your heart desires – the Dieker's store can offer. Expert optician and namesake, Stefan Dieker, runs a tight ship. The store in the town of Oldenburg combines optical expertise with some of the hottest labels around. For instance, you can try on and get fitted for frames by the likes of Starck, Mykita, Tom Ford, Götti and Lindberg. What's more, Stefan knows his way around digital marketing. Therefore, Dieker's maintains some of the coolest Facebook, Instagram and YouTube channels in the German optical trade. To see where the magic happens, pay them a visit!
KASSEL
Neue Fahrt 7 | 34117 Kassel
+49 (0) 561.771604
Not every optical store proprietor had a start in advertorial photography. But Claudia Weber made the leap in 2001 and started her Filia 76 store in the town of Kassel. Since then, Filia 76 has emerged as the go-to spot for stylish and sophisticated eyewear. The team cultivates a portfolio of classic and timeless eyewear from some of the world's most prominent brands. Also innovative and cutting-edge frames with a unique look and feel. And of course the kind of luxury frames that defy conventions. To see the whole wide world of eyewear, get your kicks at Filia 76.
ESSEN
Berliner Str. 112 | 45145 Essen
+49 (0) 201.761596
What should a good optician offer? How about top expertise, good brand selection and an atmosphere that invites you to linger? Optik Augustin in Essen offers all this par excellence. We owe the great mix to Stefanie and Jari Augustin, who manage to combine relaxedness with professional handling of the topic of optics. Particularly noteworthy is the gin lounge, where you can philosophize not only about glasses. Events such as book readings even take place here. The owner couple continues to run the business in the second generation and has built a reputation that attracts customers from far and wide – to find the perfect glasses and that special ambience.
ESSEN
Bredeneyer Str. 123 | 45133 Essen
+49 (0) 201.33062050
He's an ophthalmic thoroughbred and the human proof that competence and immense knowledge of the eyewear trade do not always have to come in dreary grey suits and behind ironed-out ties: Giovanni Graffweg from Essen's Optik Breiderhoff. He has a unique style himself, an Indian taxi converted into a sofa in the shop and the 850 frames on the walls, sorted by manufacturer and country. There is really something to look at in every corner, which means that even the eyes of the 80-year-old clientele are getting bigger and bigger.
DUSSELDORF
Gumbertstrasse 170 | 40229 Dusseldorf
+49 (0) 211.1693447
Sertac Özenir is the undisputed dandy gentleman among German master opticians. He celebrates the charm of Golden 1920s. Both in his online store as well as the gorgeous storefront in the town of Dusseldorf. But make no mistake, it's not about past glories. Today's most beautiful eyewear comes to life in an ambiance characterized by plush vintage furniture and modern colorways.
The displays showcase the art of eyewear craftsmanship, while the Sehwelt Eller store also offers the latest optical technologies to its customers. The selection is complemented by Sertac's own house brand, OEZZE. Plus, he also takes the time to support some of the best eyewear from small-batch manufacturers. That's true passion at one of The Best Opticians in Germany.
MÜNSTER
Salzstrasse 29 | 48143 Munster
+49 (0) 251.42159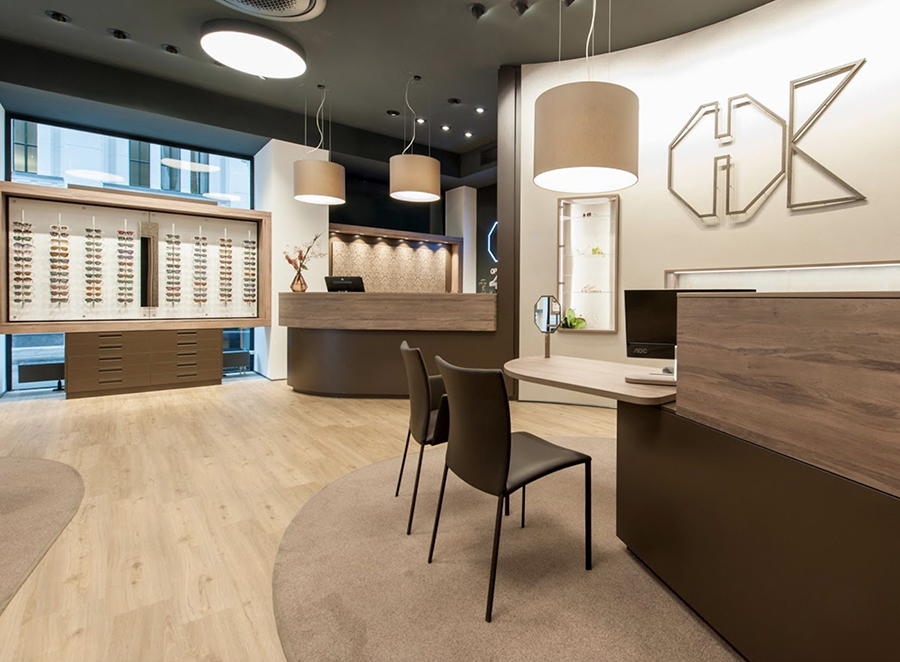 The name Kalthoff represents an eyewear legacy in the town of Munster – and beyond. Headed by Birgit Limberg and Jakob Knoblauch, the family business has become an institution in the optical scene within the Westphalia region. The key to success? Probably the mission to help every single customer find the perfect piece of eyewear. The portfolio includes eyewear styles from the most renowned international labels. But don't miss the house brand, Kalthoff, which is a cult favorite in the area and known throughout the country.
OSNABRÜCK
Krahnstraße 17/18 | 49074 Osnabrück
+49 (0) 541.29746
Some claim that Osnabrück is somewhat overshadowed by the Westphalian metropolis of Münster. That may be true in some respects, but certainly not when it comes to purchasing high-quality eyewear models. The top dog in the southern Lower Saxony city when it comes to optics is undoubtedly Peter Meyer's optical store. He and his team carry a range of brands that leaves nothing to be desired. So it's no wonder that customers come from far and wide to have Peter and his team recommend the right glasses for them. However, the good advice is also necessary, because the range is overwhelming.
COLOGNE
Hahnenstrasse 2 | 50667 Cologne
+49 (0) 221.256858
Alexander Schug is a clear contender for the title of Cologne's Top Optician. With a sure hand for style and great brands, he has built an impressive optical offering at the Niederprüm store. Customers trust Alexander Schug's recommendations when he suggests the matching pair of frames for a specific type of wearer. The store interior is stylish and straightforward, much like the website. If you're looking for the best, Niederprüm is the upper crust of eyewear style.
TRIER
Saarstraße 12| 54290 Trier
+49 (0) 651.35979
Trier is one of the oldest and also smallest large cities in Germany. But a shop like Optik Ruschel proves that the Trier's retail landscape can, in part, compete with much larger cities. The minimalist store in a historic villa is a real eye-catcher – and has been for over 45 years. Oldschool, vintage and modern are no empty phrases but living design. The clean and predominantly white interior on 140 square meters has numerous highlights such as an old Vespa, various guitars or custom-made refrigerator built from a Marshall Amplifier.
It's just as impressive as the curated brand selection, which includes labels like Götti, Moscot, ic! Berlin, Coblens or Lunor. In addition to the large children's eyewear department, the sports eyewear department with more than 250 sports glasses takes a special place. As a passionate sportsman, owner Jos Ruschel is personally involved. The result is numerous cooperations with athletes – and the stylish APE Piaggio sales mobile is regularly present at events.
MAINZ
Liebfrauenplatz 10 | 55116 Mainz
+49 (0) 6131.223289
In the shadow of the great cathedral in the city of Mainz, a wife-and-husband team of opticians has been cultivating a selection of premium eyeglasses for some time now. And they're still on point! Angela and David Dürlich are known as the city's foremost authority on all things eyewear. Wander into the store from the city's old town and explore a unique selection that's also mirrored by a neatly organized website. Tradition and future come to life at Optiker am Dom, one of The Best Opticians in Germany.
FRANKFURT AM MAIN
Brönnerstraße 21 | 60313 Frankfurt am Main
+49 (0)69 21976797
There is no question that the Frankfurt scene buys its glasses from Markus Nicklai in the trendy and tidy store not far from Frankfurt's Zeil. Markus is very well connected in the optics industry and hip premium brands from all over the world want to get a place in his shop window. The best of them make it, too. If you're looking for high-quality, stylish and contemporary eyewear, you can't go wrong at Markus Nikolai. Every eyewear label in his range is a bull's eye.
Bartels stil bewusst sehen (-> Store Profile)
ASCHAFFENBURG
Weissenburger Strasse 6 | 63739 Aschaffenburg
+49 (0) 6021.584895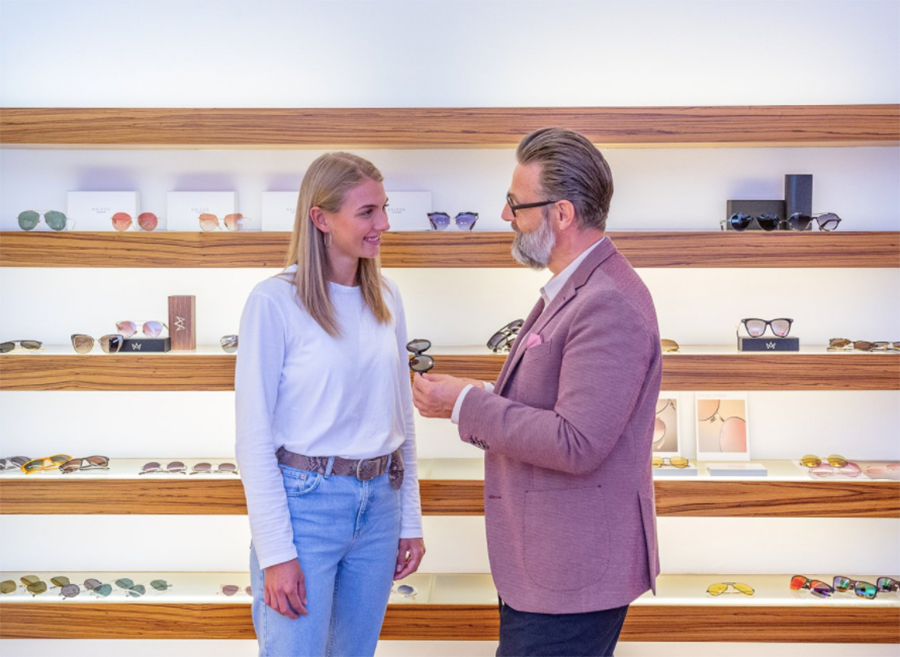 Christian Bartels holds a Master of Science in Optometry. He is also passionate about fashion and the namesake of a reputable optical store in the town of Aschaffenburg. The driving force is a constant quest for the latest and most innovative eyewear models. Bartels and his team scout the entire globe in search of new products to showcase at the store. Visitors at the Bartels shop are greeted by a stylish interior design and expert service. Plus, a collection of wonderful labels that is constantly updated as Bartels' quest goes on. Definitely one of the best opticians in Germany!
ASCHAFFENBURG
Herstallstrasse 30 | 63739 Aschaffenburg
+49 (0) 6021.447790
With a diploma as a master optician, Karl Amon has assembled a team of 25 well-trained opticians, master opticians, bachelor and master graduates, operating under the motto: "Fifty eyes see more than two!" The store's major differentiators include unmatched expertise, individual fitting and counseling, an immensely diverse brand portfolio and a passion for all things eyewear.
Retailers from around the world can learn from the level of excellence showcased at Amon + Sebold, which enjoys a reputation far beyond Northern Bavaria. The real-life store is supplemented by a modern website, including stripped-down navigation, well-researched product copy and great user experience.
DARMSTADT
Schulstrasse 4 | 64283 Darmstadt
+49 (0) 6151.5011466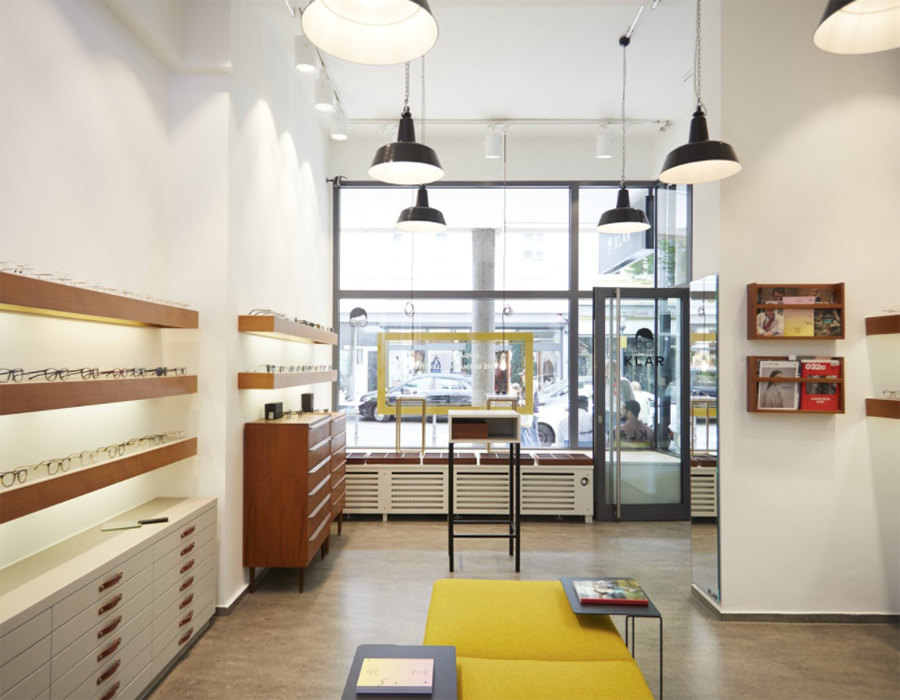 Akram Husseini operates what is single handedly the coolest eyewear store in the city of Darmstadt. The optician is known as one of the major players in the German eyewear business. As a co-founder of The German Collective, he also likes to design special collab eyewear. And as a passionate wearer of eyeglasses, he also has a burning passion for niche brands. Head on over to the Klar's digital presence, and you will find a dynamic display full of images featuring exotic models in an ultra-clean design. The name, which is the German word for 'clear', also looms large over the retail store interior design. Without a doubt one of the best German optical stores.
HEIDELBERG
Steingasse 14 | 69117 Heidelberg
+49 (0) 6221.6732480
At Steingasse 14, old meets new and tradition clashes with progression. Inside a historic building near the Old Bridge landmark in Heidelberg, opticians Thomas Hobmaier and Frederic Utz have established a beautiful optical shop. The interior is a masterclass in style and taste. And so is the brand line-up. So it's only logical that the store has garnered the coveted "Shop of the Year" award in 2016. The two co-founders of The German Collective maintain close attention to detail when it comes to offering the full package of expert services and hand-picked product. And this level of care also shines through upon visiting the stylish website.
MERZIG
Poststrasse 17| 66663 Merzig
+49 (0) 686.174707
Christian Brück is without a doubt the coolest optician in the Saarland region. And he knows how to back it up with unrivaled expertise. This level of premium service has already garnered the store several awards, including "Most Family-Friendly Enterprise 2015", "Company of the Year 2016" and "Saarland Inclusivity Award", to name but a few. The gorgeous website is rich in vivid imagery and replete with its own blog and integrated web store, where a large number of high-end glasses from premium brands can be ordered directly.
WIESBADEN
Grabenstrasse 8 | 65183 Wiesbaden
+49 (10) 611.377252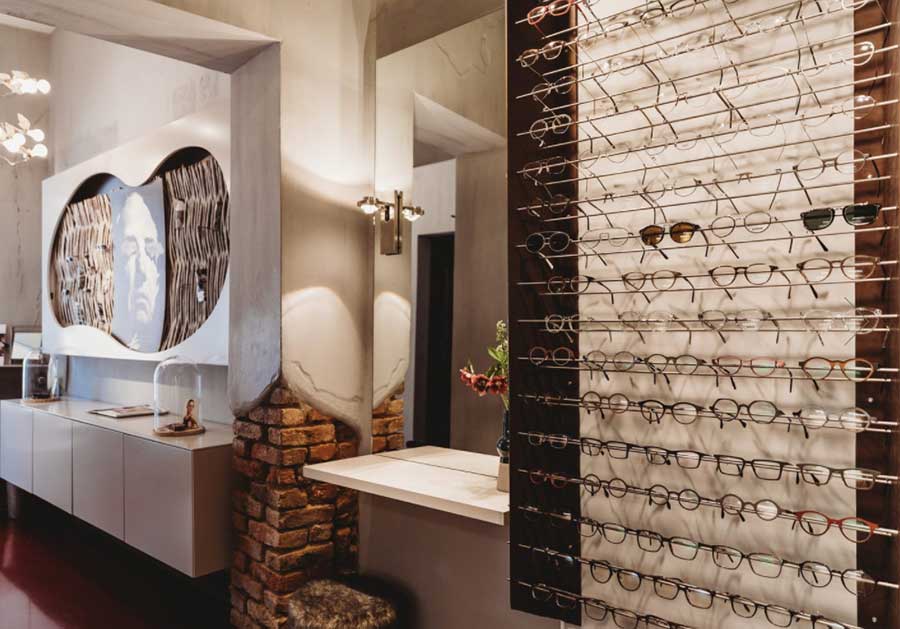 With the Brillerie store in downtown Wiesbaden, optician Kai Paape has created a destination for premium eyewear that is unrivalled in the vicinity. In his self-proclaimed 'crusade against the mainstream', Kai and crew are banking on their passion for craftsmanship, replete with an in-house eyewear workshop. As the perfect backdrop for premium eyewear models from leading brands, the store boasts stylish wooden displays. Without a doubt one of the best opticians in Germany, and yet another reason to pay a visit to Wiesbaden if you happen to be in the area.
LUDWIGSBURG
Asperger Strasse 2 | 71634 Ludwigsburg
+49 (0) 7141.931820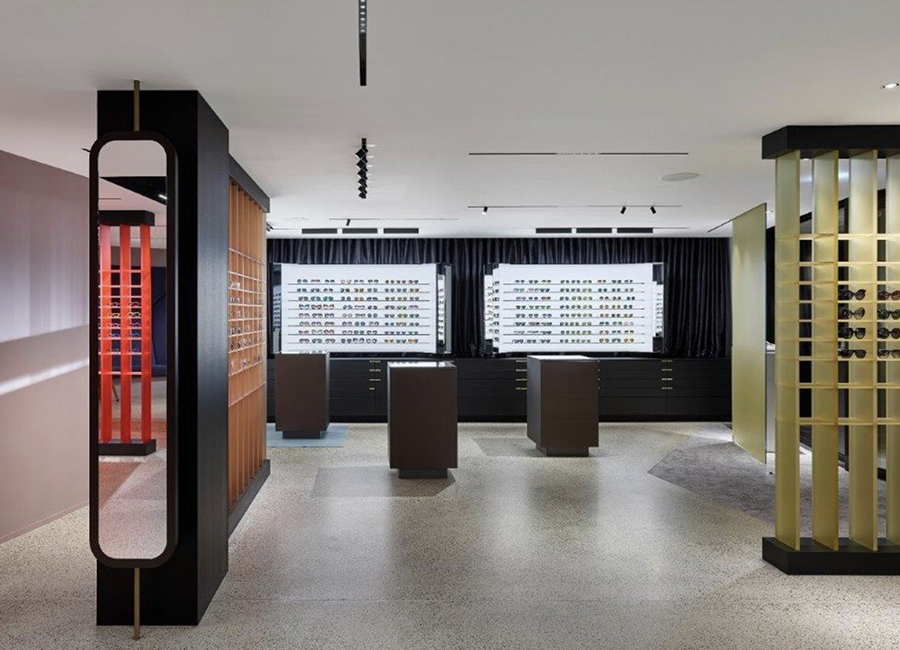 Opened in the year 1907 by founding couple Adolf and Adelheid Hunke, this shop started as the first retailer of watches, jewelry and optical goods in the city of Ludwigsburg. More than 100 years later, it remains a top destination for finding the best eyewear. Most importantly, the business still remains to be family-owned and prides itself in a rich tradition for optical expertise. Every customer will find the right kind of individual service when it comes to finding that perfect piece of eyewear. With a broad range of premium eyewear to choose from – and a modern store design including sleek cases and displays – the Hunke store is a showcase for how to keep things fresh and moving forward in the eyewear business.
STUTTGART
Sophienstrasse 15 | 70178 Stuttgart
+49 (0) 711.6079881
Stuttgart may be known across the world for its automotive heritage. But don't forget eyewear, as the sichtbar store demonstrates. Eleven stylists, trendscouts, designer, physicists, psychologists, precision engineers, detectives and firemen are at work here – and they also happen to be licensed opticians at the same time.
Founders Hans and Angela Schneider have spent the past few years cultivating a unique spirit that customers love and cherish. And the extremely clean and stylized store design also adds to the experience. Bringing the brand positioning full circle, the sichtbar website also dazzles with its very own unique graphic style as a digital calling card for one of the best opticians in Germany.
STUTTGART
Hölderlinplatz 3b | 70193 Stuttgart
+49.(0)711. 2539509
The namesake of the store, Andreas Kraft, has cultivated a gorgeous store right on Hölderlinplatz square in downtown Stuttgart. His eyewear expertise is the stuff of legends, and he channels his entire experience and penchant for design into the store's house collection of eyewear. The name: Willems Eyewear. Overall, the team at Kraft is committed to honoring the traditional craft of the optical trade, while serving customers with an eye for quality, originality and sustainability. And did we mention that the store's interior features one of the coolest displays for eyewear in the entire industry? To experience it, stop by at Kraft in Stuttgart.
STUTTGART
Königstraße 28 | 70173 Stuttgart
+49.(0)711. 293920
Stuttgart is located in a narrow valley, so there is not much space for high-end retailers. Anyone who thinks they're something, sets up shop on Königstraße. And unsurprisingly, this is also the case for high-end eyewear and our second pick for Stuttgart. Kästner Optik is a superb retailer with an exquisite range of premium brands. Customers appreciate the selection in an upscale ambience and the state-of-the-art technical equipment.
MÜNCHEN
Maximilianstrasse 11-15 | 80539 München
+49 (0) 89.24215110
The Leidmann store in Munich is on the cutting edge of eyewear design. True to the motto: "We don't care about brands. The only thing that counts is the best eyewear in the world." Also the bold claim: "Satisfied customers are not our goal. We're only after pure enthusiasm." These words by founder Christian Leidmann have guided the way for many years now and made Leidmann THE premium optical store in Munich's Maximilianstrasse.
As a result, the city's movers and shakers rely on Leidmann for their eyewear. Plus, Leidmann is a founding member of The German Collective and keeps things moving with an eye on the latest trends in the business. The stylish store interior alone is a reason to be included in the list of the Best Opticians in Germany.
Ströble Hören & Sehen (-> Store Profile)
ÜBERLINGEN
Münsterstrasse 7-11 | 88662 Überlingen
+49 (0) 7551.64070
Ströble is the name of a clean and neatly organized store operated by Ronny Eisentrau in the picturesque town of Überlingen on Bodensee lake. But besides its scenic and rural location, the store has a brand portfolio to boot that can punch with the most cosmopolitan retailers in the business. Ronny carries the latest eyewear styles Rolf Spectacles, Oliver Peoples, Persol and Masunaga. Overall, her selection is equally inspired by current fashion trends as well as a penchant for quality, high-end materials and premium manufacturing.
NUREMBERG
Trödelmarkt 10 | 90403 Nuremberg
+49 (0) 911.2727579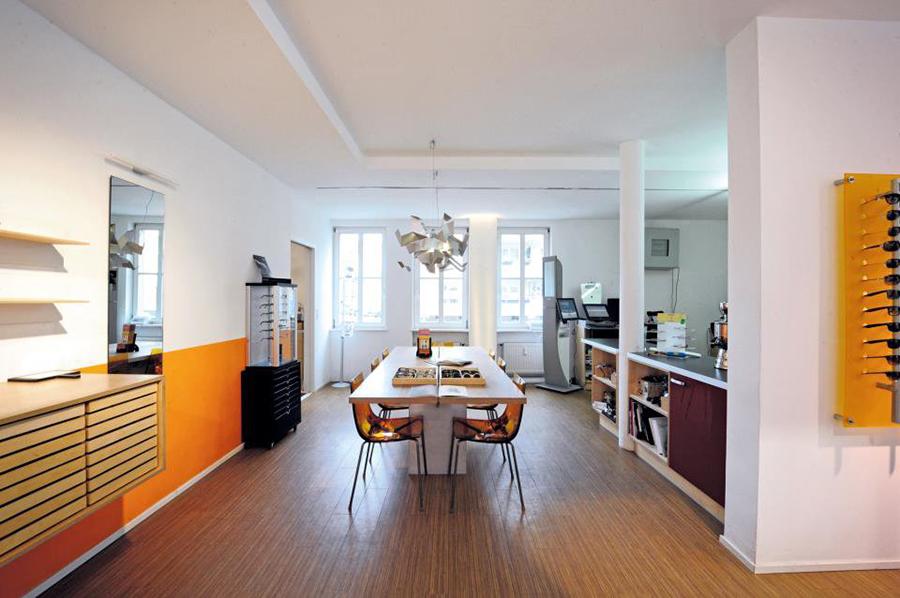 Optician Matthias Kröniger loves to explore the full expanse of the eyewear universe. His store near the Pegnitz river is dedicated to the latest models from high-end brands that flatter all kinds of different faces and make strong stylistic statements. The store concept also has an impact with a focus on essentials in a stripped down, purist aesthetic without superfluous detail. Surely one of the best opticians in Germany, and right in the heart of Nuremberg.
The Best Opticians in Germany
Find the best German opticians – all over Germany