The Best 3D-Printed Eyewear
The best 3D-printed eyewear is available on FAVR.  We have you covered with premium eyewear. But before you start shopping, let us take a closer look at 3D-Printing in general. The fascinating technology is booming in every industry. And eyewear is no exception. The additive production process is changing the way brands design and make frames. In this article, we're explaining 3D-printing eyewear technology. We're showing interesting use cases and advantages for customers. And while you're here, please check out the best premium eyewear brands for 3D-printed eyewear frames.
.
---
.
Try on the latest 3D printed glasses online here:


>>> Click here for more 3D printed glasses
>>> Click here for more 3D printed sunglasses
---
What are advantages of 3D-printing?
Many brands love the 3D-printing eyewear technology to stand out from the competition. They use it to realize fresh and innovative eyewear designs. Besides this, the process has many advantages: 3D-printers allow for an easier and more sustainable production. It's also fairly inexpensive. In addition, brands can realize detailed designs in a quick and easy way.
How is 3D-Printed eyewear manufactured?
The manufacturing of quality 3D-printed eyewear starts on the computer. The designer uses a dedicated program to complete the digital frame design. Afterwards, he sends it to the 3D-printer. This machine then churns out the frame layer by layer. We call this an "additive process". And the raw material everyone uses most often is called polyamide.
What materials are used for 3D-Printing?
Polyamide offers designers a large degree of creative freedom. They can apply it to create interesting shapes, designs and colors. And they can also work with complex surface structures. Many small details are not possible with normal production processes. You can create a complex designs and much more intricate shapes. Also, there is no boundary between design and final product. Anything is possible in 3D. This wide range of possibilities attracts designers and brands to the field.
3D-printed eyewear is the future. Whether the technology is used pure or in combination with other materials such as acetate or titanium, a 3D-printed frame offers stunning design options. That's why the frames are always true highlights.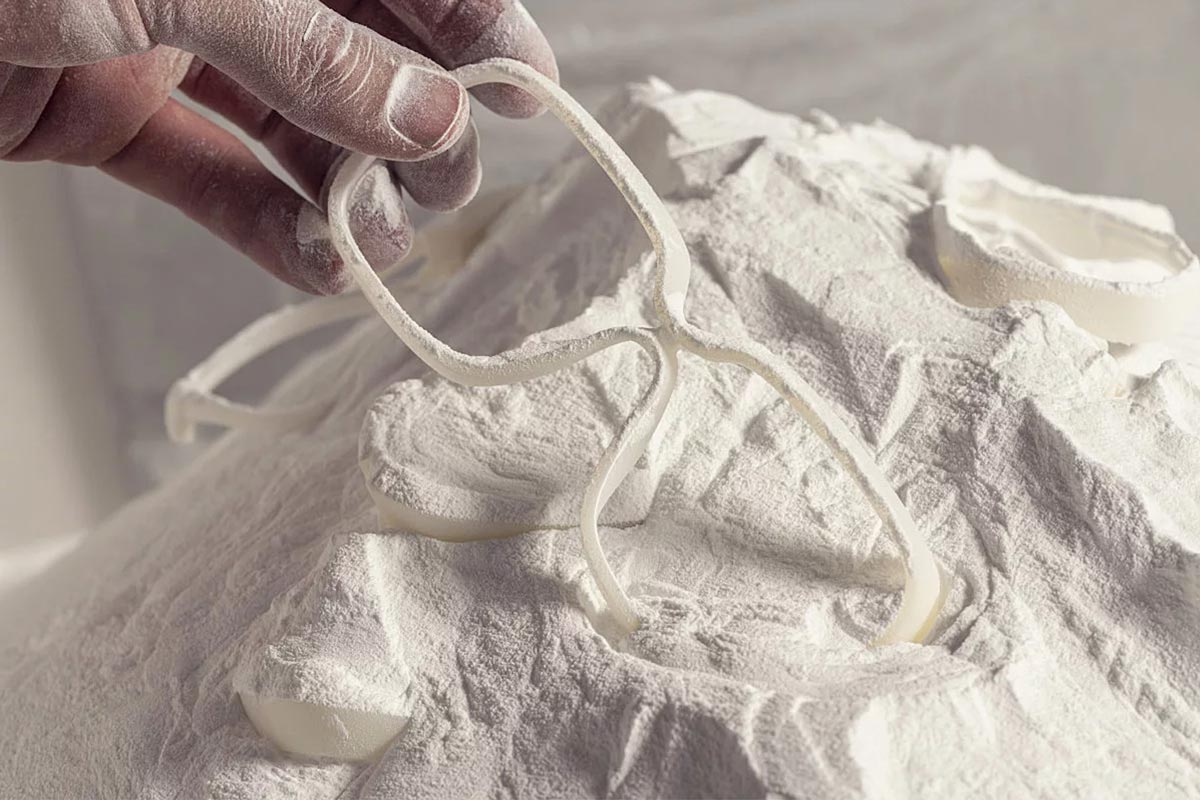 Is 3D-printed eyewear comfortable?
Thanks to advanced 3D-printing processes, brands and opticians can fit eyewear frames precisely. They can make them for an individual wearer. Thus, they can unlock a new level of personalized fit and comfort. This is a significant advantage over other materials such as titanium, wood or acetate. Combined with their light weight, 3D-glasses fit extremely well. This is why some people even forget they are wearing them.
Is 3D-printed eyewear sustainable?
The process of 3D-printing is also highly efficient. Producers avoid unnecessary waste during the production cycle. The reason is that the 3D-printer only creates the finished product only. Therefore, 3D-printed frames are very sustainable. At the same time, they are always very light.
Finally, 3D-printed frames are long-lasting and robust, while coming at low manufacturing costs.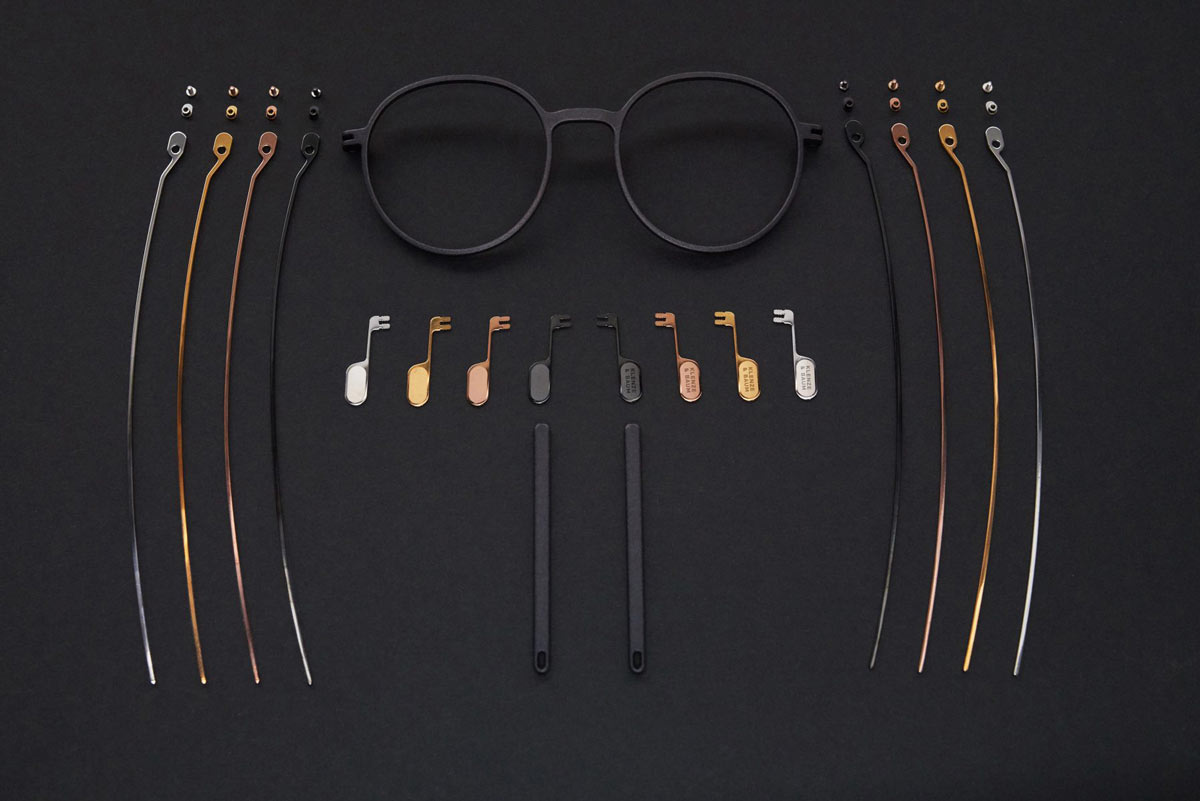 ---
»Romy« & »Alain«, »Romy«, »Maurice«
»Oliver 3D«, »Virginia 3D«, »Virginia 3D«
---
3D-printing allows for creative freedom
Hardly any other manufacturing process in the premium eyewear universe offers the same amount of creative freedom to designers as 3D-printing. What's more, the process is sustainable and many manufacturing steps can be done in-house. This efficiency eliminates transport and sourcing costs. In addition, the process allows for manufacturing frames built-to-order. All in all, it can cut down overstock and adds to the smaller footprint of 3D-printed products. Because of these advantages, a number of outside companies have tried to enter the booming market for 3D-printed eyewear. This puts them in direct competition with traditional premium brands, but they often lack the expertise and experience needed to create the best eyewear products.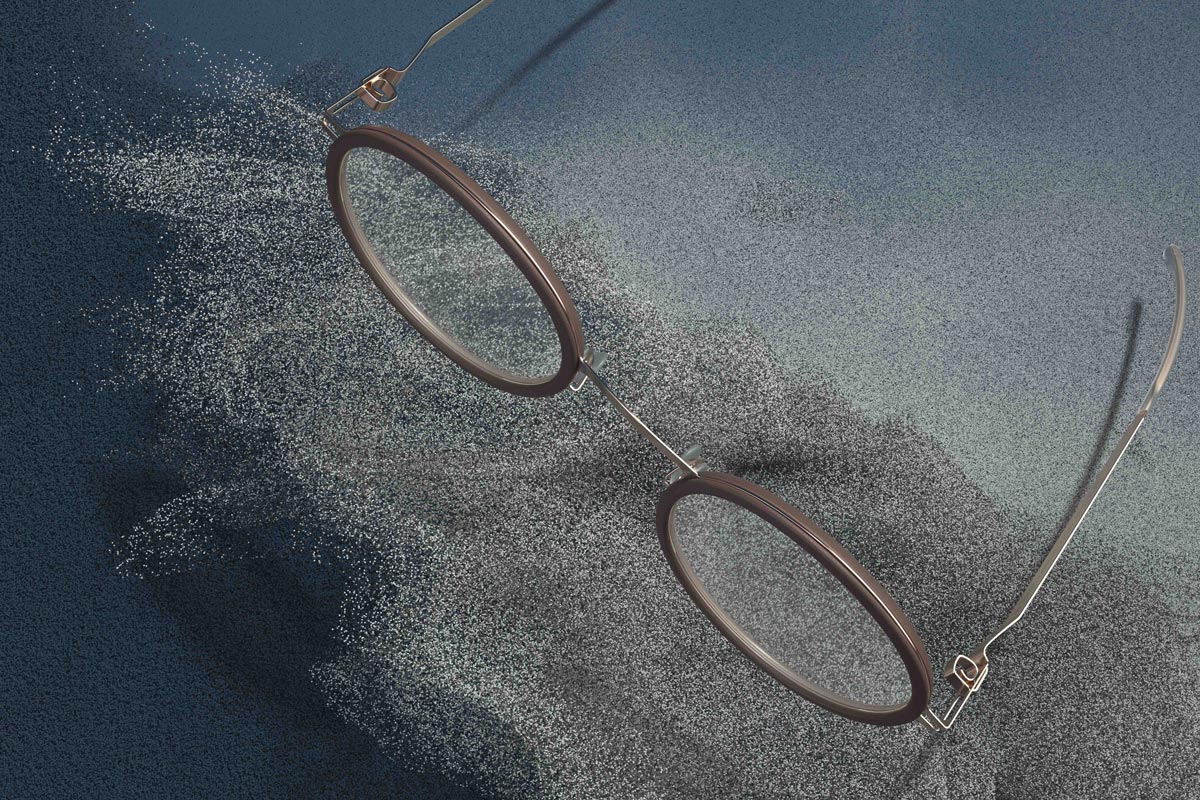 What are the best  3D-printing eyewear brands?
We have compiled a selection of premium eyewear brands that have achieved outstanding results. The list is handpicked by FAVR and contains amazing eyewear created with 3D-printing. Here's a list of the most important manufacturers:
Looking for more 3D-printed frames from premium eyewear brands? You're in the right place. Have a look here.
Well assorted premium opticians
with 3D-printed frames
You can virtually try on many 3D-printed frames at Favrspecs. But you can also try them on in person at a quality optical store. Click here to see the leading opticians near you or in the city of your choice. You can check out the profile of the store and see all premium brands in their selection.
Other high-quality materials
FAVR is not only limited to 3D-printed eyewear. A wide range of other materials offer significant advantages in the design and manufacturing of premium eyewear. Therefore, get inspired and find out more before deciding on the best material for your needs. Helpful stories include our article on the best Titanium Frames, on the Best Wood Eyewear or for instance the best horn eyewear frames.
---
Photography, header photo:
photo SPECTR MAGAZINE // ANDREA KADLER @spectrmagazine
digital assistant LUBBERTUS MÜLLER
hair & make-up ULLA KORNELIUS
styling ANDREA KADLER assisted by JAKOB SCHÄFER
models ALIMA & LINO at MODELWERK & MARYEL at MGM MODELS
retouch KATARZYNA KEDRON
special thanks to MARITIM HOTEL TRAVEMÜNDE
location TRAVEMÜNDE, BALTIC SEA
Campaign images & still photography: NEUBAU
Featured Image: ENRIC VIRGILI